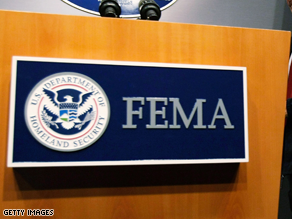 A new report gets tough on Obama.
(CNN) - Despite years of warnings, the Federal Emergency Management Agency had no plan to house disaster victims after Hurricane Katrina and remains unprepared for another catastrophe, a Senate investigation concluded Thursday.
The probe found FEMA failed to prepare for a major disaster even after a 2004 exercise by emergency responders predicted a quarter of a million people could be left homeless by a major hurricane strike on New Orleans, Louisiana Sen. Mary Landrieu told reporters.
"So when the storm hit, they just started ordering trailers with no thought to how expensive it would be, where they would put them, how expensive it would be set them up or what the capacity would be to manufacture them to begin with," said Landrieu, D-Louisiana.
Landrieu said FEMA had concluded it was unable to house large numbers of disaster victims as early as 2002, and it "wasted" $15 billion on inadequate housing after Katrina. The agency also resisted efforts by the Department of Housing and Urban Development to assist in finding homes for people displaced by the storm.
The report came after a nine-month probe by a Senate subcommittee on disaster relief led by Landrieu. Sen. Claire McCaskill, D-Missouri, said the report was "a damning indictment of the continued incompetence of FEMA," but Landrieu said the report is also meant to be "a blueprint for reform" for them Obama administration.
There was no immediate response from the agency, which has battled intense criticism since Katrina struck the Gulf Coast in August 2005. The storm left more than 1,800 dead, most of them in Louisiana, and flooded more than three-quarters of New Orleans, displacing hundreds of thousands of people.