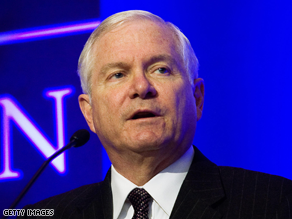 Robert Gates announced the new policy Thursday.
(CNN) - The Pentagon on Thursday lifted its ban on media coverage of the coffins of war victims when they arrive at Dover Air Force Base in Delaware, according to a senior U.S. defense official with direct knowledge of the decision.
The coverage must be approved by families, however.
Sixty-seven percent of those questioned in a CNN/Opinion Research Corporation survey released Thursday say they think the government should allow the public to see photos of caskets of U.S. troops at an air force base. Thirty-one percent of the those surveyed disagree with the decision to release photos of the event.
The CNN/Opinion Research Corporation survey was conducted February 18-19, with 1,046 adult Americans questioned by telephone. The survey's sampling error is plus or minus 3 percentage points.