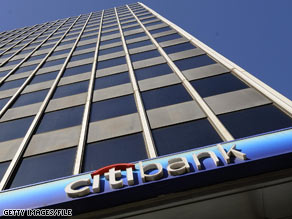 The government's stake in Citigroup is increasing.
NEW YORK (CNNMoney.com) - The U.S. government waded deeper into the bailout of one of the nation's largest banks Friday when it announced a deal that will give it control over as much as 36% of Citigroup's common stock.
Citigroup shares tumbled 46% in premarket trading.
The deal will convert preferred shares that Treasury already holds in Citigroup for common shares, a shift that is designed to improve the embattled bank's capital base, which in turn will hopefully allow it to increase its lending.
The U.S. government has already given Citigroup $45 billion, for which it received preferred shares and warrants in the company.
The new deal Friday did not give the bank any additional taxpayer dollars. But the government is taking on a greater risk by assuming more volatile common shares. The market price is well below the $3.25 per-share conversion price the government is paying.
Taxpayers will also lose roughly $2 billion in dividends, because the preferred shares they are giving up paid 8% dividends. Citi suspended its common share dividend as part of the agreement.