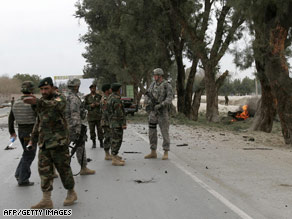 Afghan and U.S. soldiers walk at the site of a suicide attack outside Jalalabad in Nangarhar province Sunday.
WASHINGTON (CNN) - The "most worrisome" part of the U.S.-led war in Afghanistan has become the havens the Taliban and other insurgents have carved out in neighboring Pakistan, U.S. Defense Secretary Robert Gates said.
Gates said the United States had a similar perch in Pakistan when U.S. and Pakistani officials supported Afghanistan's mujahedeen rebels against the Soviet Union in the 1980s - "and let me tell you, it made a big difference."
"I think as long as they have a safe haven to operate there, it's going to be a problem for us in Afghanistan," he told NBC's "Meet the Press" on Sunday.