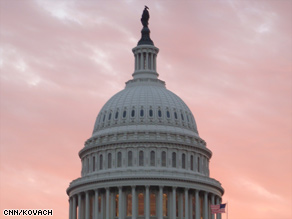 WASHINGTON/POLITICAL
For the latest political news: www.CNNPolitics.com.
CNN: Gates says Obama more 'analytical' than Bush
President Obama is more analytical than his predecessor, Defense Secretary Robert Gates said Sunday.
CNN: Emanuel says Limbaugh GOP leader, Cantor rejects 'fail' remark
White House chief of staff Rahm Emanuel said Sunday that Rush Limbaugh is the face of the GOP.
NYT: UBS Is Said to Raise Pay Despite Cuts in Bonuses
A pay raise may be the last thing a bank is expected to offer these days. But UBS, the Swiss bank, is doing exactly that as it looks for new ways to compensate its investment bankers, two people who have been briefed on the changes said Sunday.
USA Today: PACs spent record $416M on federal election
President Obama shunned contributions from political action committees during his campaign but the special-interest spigot remained wide open for Congress and could still influence his agenda.
Washington Times EXCLUSIVE: The fog of congressional transparency
The pharmaceutical industry that long has benefited from Sen. Orrin G. Hatch´s legislative efforts has directed large sums of money to a charity he helped found – and still raises money for – while also hiring the Republican lawmaker's son as a lobbyist.
NYT: A Line Forms to Succeed Burris, Sooner or Later
As Roland W. Burris, the junior senator from Illinois, took his first turn presiding over the Senate last week, hired staff members to fill his Washington office and announced co-sponsorship of a measure commemorating the role of slaves in building the Capitol, politicians back home were plotting who might replace him.
WSJ Op-Ed: Ryan: A Republican Road to Economic Recovery
Inheriting countless challenges, Congress and the Obama administration have moved quickly on many fronts to implement their economic agenda. After two months of drastic interventions, has hope replaced fear, and confidence pushed aside uncertainty? Hardly.
London Times: Union calls on Obama's online team to fight Royal Mail privatisation
The team behind Barack Obama's online campaign network has joined the fight against the privatisation of Royal Mail, The Times has learnt.
Christian Science Monitor: To stem terror in Pakistan, US looks beyond military
In an admission that its dependence on the Pakistani military has yielded few results against the Taliban, the United States is now seeking to change its relationship with Pakistan – the world's sole Muslim nuclear power and home of Al Qaeda's leadership.
NATIONAL/INTERNATIONAL
For the latest national and international news: www.CNN.com.
CNN: U.S.: Iran has material for nuclear bomb but still 'not close'
Iran likely has enough material to make a nuclear weapon, Joint Chiefs of Staff Chairman Adm. Mike Mullen told CNN's John King on Sunday.
CNN: Iran calls for the arrest of Israeli PM, other leaders
Iran is calling for the arrests of 15 Israeli leaders, including Prime Minister Ehud Olmert, on charges of war crimes in Gaza.
WSJ: Economists Debate Pro-Labor Measure
Organized labor is seeking to hitch its top legislative priority to President Barack Obama's plans for economic recovery, as unions try to overcome intense business opposition to the proposal.
NYT: Growing Economic Crisis Threatens the Idea of One Europe
The leaders of the European Union gathered Sunday in Brussels in an emergency summit meeting that seemed to highlight the very worries it was designed to calm: that the world economic crisis has unleashed forces threatening to split Europe into rival camps.
London Times Op-Ed: PM Brown: The special relationship is going global
Historians will look back and say this was no ordinary time but a defining moment: an unprecedented period of global change, and a time when one chapter ended and another began.
Washington Post: Tactical Success, Strategic Defeat
The U.S. soldiers entered the sleeping village in Logar province in the dead of night on Feb. 20, sure of their target and heavily armed. They surrounded a mud-walled compound, shouting commands, and then kicked down the gate as cries of protest erupted within.
Washington Post: Researchers Find Safer Way to Produce Stem Cell Alternative
Scientists have developed what appears to be a safer way to create a promising alternative to embryonic stem cells, boosting hopes that such cells could sidestep the moral and political quagmire that has hindered the development of a new generation of cures.
WSJ: Charities Say Tax Changes Add to Pain
Nonprofit groups criticized proposed limits to charitable deductions in President Barack Obama's budget plan, saying they will be a blow to organizations already struggling with a steep drop-off in donations.
Newsweek: Learning to Live With Radical Islam
Pakistan's Swat valley is quiet once again. Often compared to Switzerland for its stunning landscape of mountains and meadows, Swat became a war zone over the past two years as Taliban fighters waged fierce battles against Army troops. No longer, but only because the Pakistani government has agreed to some of the militants' key demands, chiefly that Islamic courts be established in the region. Fears abound that this means women's schools will be destroyed, movies will be banned and public beheadings will become a regular occurrence.
LA Times: Grocers, major food producers at odds over prices
There's a tug-of-war underway over food prices between the nation's supermarkets and giant food manufacturers including Nestle, Unilever and Kellogg.
BUSINESS
For the latest business news: www.CNNMoney.com.
CNN: Asia plunges on market fears
Markets across Asia tumbled Monday as Wall Street teetered on the edge of 12-year lows. Japan's influential Nikkei average finished down 3.8 percent, while the All Ordinaries index in Australia closed down 2.8 percent. In Seoul, the KOSPI lost 4.2 percent and the Hang Seng index in Hong Kong dipped 3.8 percent. The dismal trading comes as Wall Street sits on the precipice of nearly 12-year lows.
CNN: AIG board approves new terms of U.S. bailout
The U.S. government threw a new $30 billion lifeline to American International Group Inc Sunday as the embattled insurer prepared to report the biggest quarterly loss in corporate history.
Bloomberg: Buffett Says Economy 'In Shambles,' Promises Better Days Ahead
Billionaire Warren Buffett said the economy will be "in shambles" this year, and perhaps longer, before recovering from the reckless lending that caused the worst "freefall" he ever saw in the financial system.
Financial Times: HSBC to scale back US lending
HSBC will announce plans on Monday to scale back its US consumer finance operations as the bank launches a £12bn-plus rights issue designed to re-establish its position as one of the world's best-capitalised banks.
Business Week: Academic Endowments: The Curse of Hoarded Treasure
Something seems wrong with the way elite U.S. universities finance themselves. The problem: They're addicted to multibillion-dollar endowments. When the endowments suddenly shrink, they can seem more like curses than blessings. Harvard University, the richest institution of higher education on the planet, gets about one-third of operating funds from its endowment.
In Case You Missed It
To watch the latest interviews and reporting: http://www.cnn.com/video.
CNN: Mullen: Iran can make nuke
Joint Chiefs of Staff Chairman Mike Mullen runs down the threats from Iran and North Korea.
Do inmates have a basic right to DNA evidence? The Supreme Court will decide soon. CNN's Kate Boldaun reports.
CNN: Dem criticizes Obama Iraq plan
Democratic Congressman Neil Abercrombie wants U.S. troops out of Iraq sooner than the president has suggested.
CNN: Limbaugh's 'angry' speech
Randi Kaye talks with Bill Schneider about Rush Limbaugh's speech at the Conservative Political Action Conference.