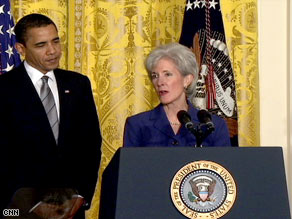 Sebelius said that health care reform isn't a partisan challenge; it's an American challenge.
WASHINGTON (CNN) - President Barack Obama nominated Kansas Gov. Kathleen Sebelius for the position of health and human services secretary Monday.
Watch: Obama names Sebelius to head HHS
The president also tapped former Clinton administration official Nancy-Ann DeParle as director of the White House Office on Health Reform.