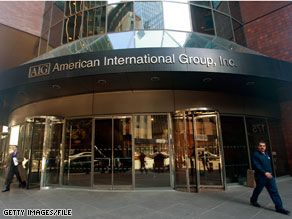 AIG lost more than $60 billion in the fourth quarter of last year.
NEW YORK (CNNMoney.com) - Insurance giant American International Group reported a stunning $62 billion quarterly loss on Monday, while government officials unveiled their latest efforts aimed at preventing the collapse of the firm.
Overwhelmed by ongoing deterioration in the credit markets and charges related to its restructuring, AIG's losses overwhelmed the firm during the fourth quarter. Its $61.7 billion loss amounted to $22.95 per share.
AIG's loss for the full year was even more dramatic - $99 billion. In 2007, the company reported a profit of $9.3 billion.
To keep the company from cratering and causing broader fallout across the financial system, the government said it would overhaul its bailout, which is aimed at helping the besieged firm unwind in an orderly way.
"Given the systemic risk AIG continues to pose and the fragility of markets today, the potential cost to the economy and the taxpayer of government inaction would be extremely high," Treasury said in its announcement.
One main goal of the revamped rescue plan - now totaling $162.5 billion - is to help boost AIG's financial position by, among other things, reducing the interest it pays the government on its loans.
Key components of the plan included the government's decision to commit another $30 billion to the firm in exchange for cumulative preferred stock. The payment, which will come from the second half of the $700 billion rescue package enacted last fall, will not be a one-time payment but AIG will able to draw down the funds as needed to help strengthen its capital base.