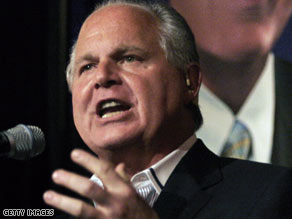 Join the conversation on Jack's blog.
Rush Limbaugh is the face of the Republican Party — at least that's how some Democrats want it.
White House Chief of Staff Rahm Emanuel calls Limbaugh the "voice and intellectual force and energy" behind the GOP and Press Secretary Robert Gibbs says he's "a national spokesperson for conservative views." This after the radio host recently repeated his claim that he wants President Obama to fail.
It also comes at the same time as a dust-up within conservative ranks between Limbaugh and Michael Steele, chairman of the Republican National Committee. Over the weekend, Steele called Limbaugh an "entertainer" whose comments are "ugly."
Needless to say, Limbaugh has had a field day with all the finger-pointing, going after both the Democrats and Steele on his radio show. Limbaugh insists he's not in charge of the GOP and doesn't want to be. He says considering the sad state of the Republican Party, he would quit if he were chairman.
To read more and contribute to the Cafferty File discussion click here