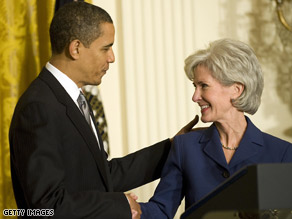 A group of Christian leaders issued a statement in support of Gov. Kathleen Sebelius, the President's choice to lead HHS.
WASHINGTON (CNN) – Kansas Gov. Kathleen Sebelius, President Obama's nominee to head the Department of Health and Human Services, is getting some support from Christian leaders in what could be a brewing battle over her position on abortion policy.
Sebelius, who is Catholic and personally opposed to abortion, has nonetheless angered some religious groups with her policy positions on abortion during her tenure as governor.
In a statement issued Monday, a group of Christian leaders said that under Sebelius, the number of abortions in the state had decreased, pre-natal care had expanded, adoption funding and incentives increased, and legislation passed that protected the unborn from crime.
"Such a record demonstrates a commitment to results rather than rhetoric on life issues," the group said.
Citing her appeal in a heavily Republican state, the group also suggested Sebelius has the ability to bridge ideological divides. "Her record and her relationships with leaders in both parties are proof that pro-choice and pro-life leaders can work together to advance a pro-family agenda....Efforts to discredit her will no doubt arise," they said, but Sebelius "deserves a fair hearing in Congress and in the public square."