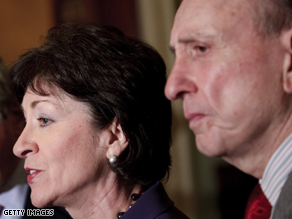 A conservative Club for Growth is criticizing three Republican supporters of the president's stimulus bill.
WASHINGTON (CNN) - The Club for Growth has bestowed the three moderate senators who supported President Obama's stimulus plan with their monthly "Comrade of the Month" award.
The small government advocacy group announced Tuesday that 86 percent of its members chose to give the February award to Sen. Arlen Specter of Pennsylvania and Sens. Olympia Snowe and Susan Collins of Maine, who broke with their party last month to give the White House the 60 votes needed to pass the stimulus package.
"As future generations of American taxpayers struggle to pay off the country's mountain of debt, they will have these three Republican Senators to thank," said Club for Growth Executive Director David Keating in a press release.
According to the group, the dubious honor "is awarded at the end every month to the public official or figure who best lives up to the policies of big government and favors restrictions on economic freedom."
The jab at Specter is particularly eyebrow-raising because it comes one day after the Club's president, Pat Toomey, said he is considering challenging the Pennsylvania senator in next year's Republican primary. If Toomey runs, it would set-up a re-match of the bruising 2004 GOP primary battle that Specter ultimately won.