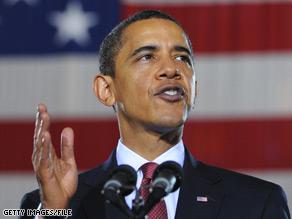 President Obama wrote Russian President Dmitry Medvedev seeking help in talks with Iran, sources say.
WASHINGTON (CNN) - President Obama has told Russia that the United States might not proceed with a missile defense system in eastern Europe if Iran drops plans for producing nuclear weapons, senior administration officials said Tuesday.
Obama raised the possibility in a letter to Russia seeking help in trying to end Iran's nuclear program, a senior administration official said. Contrary to news reports, it was not a secret letter, the official said.
Obama told Russian President Dmitry Medvedev in the letter that the U.S. missile defense system in Russia's backyard would not be necessary if Iran stopped it own ambitions to build nuclear warheads and long-range ballistic missiles, the officials said.
The letter suggested Russia could have a role in reducing Iran's nuclear threat, and therefore could dissuade the United States from going forward with its plans to establish a missile base in Poland and a radar facility in the Czech Republic.