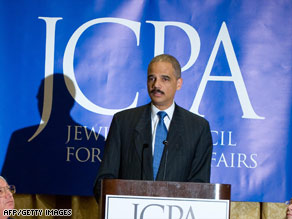 Attorney General Eric Holder says the government can fight terrorism while also honoring the Constitution.
WASHINGTON (CNN) - The Obama administration Monday released nine previously secret internal Justice Department memos and opinions defining the legal limits of government power in combating terrorism.
The Bush administration had refused to make the documents public, rejecting demands from congressional Democrats.
The release ends a tug-of-war over copies of controversial legal guidance from the post-9/11 period that advocated greatly expanded executive power to combat terrorism.
Among the documents from the Justice Department's Office of Legal Counsel (OLC) is a 2001 memo declaring that in terrorism cases the military may conduct searches in the United States without a warrant if approved by the president.
"We conclude that the president has ample constitutional and statutory authority to deploy the military against international or foreign terrorists operating within the United States," wrote John Yoo, then a deputy assistant attorney general. "We further believe that the use of such military force generally is consistent with constitutional standards, and that it need not follow the exact procedures that govern law enforcement operations." Read the memo
The October 23, 2001, memo was sent to then-White House Counsel Alberto Gonzales. Gonzales later became Bush's attorney general.