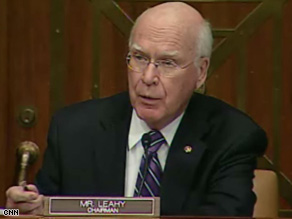 Senate Judiciary Committee Chairman Patrick Leahy has called for a commission on torture allegations.
WASHINGTON (CNN) - The Senate Judiciary Committee chairman called Wednesday for the establishment of a nonpartisan "commission of inquiry" to investigate allegations of wrongdoing against former Bush administration officials in their prosecution of the war on terrorism.
Nothing "did more to damage America's place in the world than the revelation that our great nation stretched the law and the bounds of executive power to authorize torture and cruel treatment," Sen. Patrick Leahy said at the start of a committee hearing.
American "detention policies and practices from Guantanamo Bay [Cuba] and Abu Ghraib [Iraq] have seriously eroded fundamental American principles of the rule of law," he added.
Leahy, D-Vermont, called for the "truth commission" to have a "targeted mandate" focusing on issues of national security and executive power. He said it should look specifically at allegations of "questionable interrogation techniques," "extraordinary rendition" and the "executive override of laws."
He added that the commission should have the power to issue subpoenas and offer immunity to witnesses "in order to get to the whole truth."
Leahy refused to rule out of the possibility of prosecutions for perjury committed during the commission's hearings.