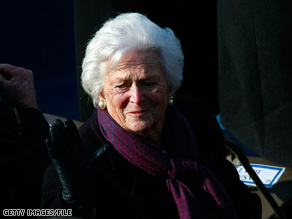 Former first lady Barbara Bush had heart surgery Wednesday in Houston, Texas.
(CNN) - Former first lady Barbara Bush underwent heart surgery Wednesday at Methodist Hospital in Houston, Texas, a hospital spokeswoman told CNN.
Jean Becker, chief of staff for former President George H.W. Bush, said that Barbara Bush, 83, was "fine" following the surgery.
"In fact, she is awake," Becker said.
"We, of course, naively wanted to keep it quiet - Mrs. Bush did," Becker said Wednesday night. "She thought there was too much fuss the last time."
Wednesday's surgery was not related to surgery she had in November for a perforated ulcer.
Her husband is with her in the hospital, where she is expected to remain for seven to 10 days.
"I am very impressed with and grateful to the wonderful team of doctors and nurses at The Methodist Hospital who have helped Barbara," the former president said. "We have every confidence she is in the best hands."