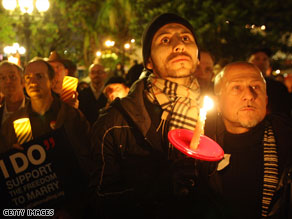 Angel D. Hernandez and Johnny Foam join a same-sex marriage rally Wednesday in Los Angeles, California.
SAN FRANCISCO, California (CNN) - Officials are expecting a standing-room only audience Thursday for a same-sex marriage hearing at the California Supreme Court. Justices are expected to decide the fate of the state's same-sex marriage ban and the validity of about 18,000 gay and lesbian marriages.
Hundreds of demonstrators gathered in San Francisco's Castro District Wednesday night to push for the court to reinstate same-sex marriage in California.
On Thursday the court will take on the constitutionality of the controversial Proposition 8, a measure banning same-sex marriage that voters approved in November.