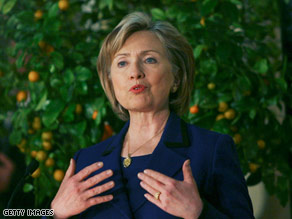 Secretary of State Hillary Clinton speaks during a meeting with Israeli Prime Minister Ehud Olmert.
(CNN) - Iran poses a threat to Europe and Russia, both from Tehran's direct efforts and its support of terrorist groups, Secretary of State Hillary Clinton said Wednesday.
The Tehran government is intent on interfering in the Middle East, she told reporters aboard her flight to Brussels from the region.
"There is a great deal of concern about Iran from the entire region," she said. "I heard it over and over and over again in Sharm el Sheikh, in Israel, in Ramallah.
"It is clear Iran intends to interfere in the internal affairs of all these people and try to continue their efforts to fund terrorism - whether it is Hezbollah or Hamas or other proxies."
Clinton repeated President Barack Obama's desire to talk directly with the Iranians, but added that "we want to make sure it's constructive."
She also reiterated what Obama said he had told Russian President Dmitry Medvedev in a "lengthy letter" - that the proposed U.S. missile defense system in Europe targets Iran and not Russia.
"We've made the point to Russia and will again, and I think they may be beginning to really believe it," Clinton said. "This is not about Russia. We have real potential threats, and obviously Iran is the name we put to them as a kind of stand-in for the range of threats we foresee."
Clinton said the United States hopes Russia will join the missile defense efforts, adding, "we don't look at Russia and see a missile threat."