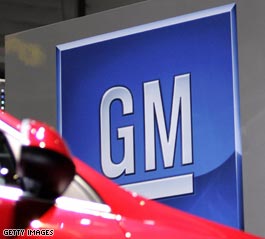 Under the terms of federal loans GM has already requested, the Obama administration must determine the struggling automaker's long term viability.
NEW YORK (CNNMoney.com) - General Motors Corp. said in a government filing Thursday that its accounting firm has found there is "substantial doubt" about the automaker's ability to survive.
The embattled automaker made the disclosure in a 480-page filing with the Securities & Exchange Commission.
GM has sustained large and continuing losses, while saying it needs additional federal loans to remain in business. Thursday's statement from the company's auditors presents another hurdle the automaker will have to clear as it makes the case that it deserve additional taxpayer support going forward.
The Obama administration, under the terms of the $13.4 billion in federal loans GM has already requested, must determine that the company's plans make it viable in the long run.