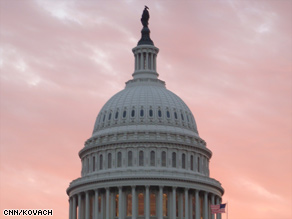 WASHINGTON/POLITICAL For the latest political news: www.CNNPolitics.com.
CNN: Two Democrats urge Obama to veto spending bill
Two Senate Democrats urged President Obama Wednesday to veto a $410 billion spending bill and said they are going to vote against it, criticizing it for its cost and for including too many personal pet projects.
CNN: Carville, Begala deny White House 'conspiracy' on Limbaugh
Democratic strategist James Carville avoided saying Wednesday if he had been in contact with the White House over ongoing efforts to portray talk show host Rush Limbaugh as the leader of the Republican Party.
CNN: Poll: Majority say Obama mortgage plan is unfair
On the day that the Obama administration begins implementing a new program to fight home foreclosures, a new national poll suggests that most Americans think the plan is unfair to those who pay their mortgages on time.
WSJ Op-Ed: Rove: Presidential Bait-and-Switch
Barack Obama won the presidency in large measure because he presented himself as a demarcation point. The old politics, he said, was based on "spin," misleading arguments, and an absence of candor. He'd "turn the page" on that style of politics.
Bloomberg: Obama Risks Cabinet Clashes to Expand National Security Council
President Barack Obama has expanded his National Security Council to seek a range of foreign policy viewpoints beyond the Defense and State departments. He'll soon find out if bigger is better.
Washington Post: Gun Law Push Puts D.C. Vote Bill on Indefinite Hold
The push to give the District its first full vote in the U.S. House of Representatives, once seemingly on the cusp of legislative approval, stalled indefinitely yesterday as key supporters offered no timetable or strategy for scheduling the D.C. vote bill, which House leaders pulled back this week.
NYT: Challengers to Gillibrand Emerging
In a sign that Kirsten E. Gillibrand, the newly appointed United States senator, has yet to win over her party's base downstate, the Manhattan borough president said Wednesday that he was considering challenging her in the Democratic primary next year.
Washington Post Op-Ed: Boehner: Democrats' Diversionary Tactics
In the first two months of 2009, the Democratic Congress and the White House have spent more money than the combined cost of the Iraq and Afghanistan wars and the response to Hurricane Katrina. After they doled out taxpayer dollars at such a blistering pace, the instinct of many inside the Beltway is to do what's most convenient: desperately try to change the subject by creating straw men - called "the party of no" - to rally against.
NATIONAL/INTERNATIONAL
For the latest national and international news: www.CNN.com.
CNN: Chavez orders nationalization of Cargill
Venezuelan President Hugo Chavez said Wednesday he had ordered the nationalization of at least some of the operations of the U.S.-based food giant Cargill and threatened to do the same with the Caracas-based food maker Polar.
CNN: Sudan orders aid agency expulsions
Sudan ordered a number of international aid agencies to leave the country Wednesday after an arrest warrant was issued for the country's president, a United Nations source in the capital city of Khartoum said.
CNN: Clinton warns of Iranian threat to Europe, Russia
Iran poses a threat to Europe and Russia, both from Tehran's direct efforts and its support of terrorist groups, Secretary of State Hillary Clinton said Wednesday.
NYT: A 2nd State Lets Doctors Lend Help in Suicide
Assisted suicide becomes legal in Washington on Thursday, but dozens of hospitals are not expected to participate, and even supporters of the law say they do not foresee a rush of requests for lethal drugs
WSJ: Cuba Receives More Cash From Workers Abroad
Cuba is bucking a global downturn in migrants' remittances of foreign cash to families back home, according to a report to be released Thursday.
US News & World Report: For Green Energy Investors, a Particularly Tough Ride
If there is a lesson to be learned from the precipitous fall in "green" stocks last year, it's this: Combining greed with good intentions can make for a poor investment strategy.
USA Today: Secondhand smoke may double likelihood of depression
Secondhand smoke not only can irritate your lungs, it also apparently can blacken your mood as well, a large study reports today.
BUSINESS
For the latest business news: www.CNNMoney.com.
CNN: Mortgage help: Do you qualify?
President Obama's eagerly anticipated foreclosure prevention program went into effect on Wednesday. It targets 9 million borrowers for help – are you one of them?
CNN: Obama housing fix open for business
The Obama administration's foreclosure prevention program was launched Wednesday.
NYT: YouTube and Universal Music Are Said to Discuss Deal
Google's YouTube and the Universal Music Group, the world's largest music label, are in advanced discussions over a licensing agreement that could lead to the creation of a premium site for music videos, according a person briefed on the talks.
WSJ: Lenders fear Chinese insolvencies
Foreign lenders who rushed into China in recent years are watching nervously as a number of companies there teeter on the brink of insolvency. Their worry: The nation's bankruptcy laws may leave them with virtually nothing.
Business Week: Did Obama Cause the Stock Slide?
At least on Wall Street, the honeymoon is over for President Barack Obama.
Business Week: Job Data Expected to Point to a Deeper Recession
February is the shortest month, but it was a brutal one this year: Economists are predicting that on Mar. 6, the government will report that payroll employment declined in February by the most in 60 years. The continued job losses—about 2.5 million in just four months—are evidence that the private sector is having a hard time pulling itself out of recession. Even stronger government intervention may be required, several economists said on Mar. 4. "I've gone through a number of cycles as an economist on Wall Street, but this one's different," says Brian Fabbri, chief economist for BNP Paribas. "This one's scary different."
In Case You Missed It
To watch the latest interviews and reporting: http://www.cnn.com/video.
Actor and activist George Clooney speaks to CNN about what still needs to be done about Darfur.
CNN: Reaction to Chinese stimulus
CNN's Eunice Yoon looks at market reaction and concerns concerning China's economic stimulus.
It's an orgy of apologies, and many are "rushing" to be a part of it. Jeanne Moos has the lighter side of Limbaugh.
CNN: Obama targets government waste
President Obama is launching a campaign against wasteful spending. CNN's Dan Lothian reports.