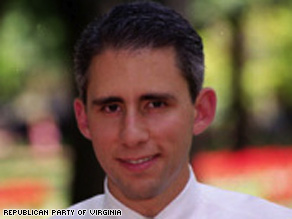 A former McCain official blasted Virginia GOP chairman Jeff Frederick as 'tone deaf.'
WASHINGTON (CNN) - Jeff Frederick, the Virginia GOP chairman who once likened Barack Obama to Osama bin Laden, is under pressure from members of his own party to resign and may soon be forced out of his position.
The latest Virginia Republican to rebuff Frederick is none other than the party's gubernatorial candidate, Bob McDonnell, who released a statement Thursday saying "it would be helpful for the Republican Party of Virginia to have more effective leadership in this pivotal year."
Frederick took over the party last May at the state GOP convention promising to give the party a makeover, but he has since presided over an underwhelming fundraising effort and sparred with McCain campaign officials as the commonwealth voted for a Democratic presidential candidate for the first time in 44 years. Virginia Republicans also lost two incumbent members of Congress seeking re-election.
"We just went around and around with him, over and over again, from the day we first met him," a former McCain campaign official said of Frederick. "He had no grasp or no concept as to what his role should be as party chairman, as far as supporting candidates or being a cheerleader for the party."
Frederick gained national notoriety last October when TIME magazine caught he comparing Obama to bin Laden while rallying supporters. "Both have friends that bombed the Pentagon," he said. "That is scary."
McCain was forced to answer for those comments while on the campaign trail.
"The very fact for that a 12-hour period, the Republican presidential nominee was having to explain something away on the stump was, quite frankly, exhibit one in Frederick's political tone deafness," said the McCain official.
Members of the Republican Party of Virginia's central committee who have lost faith in Frederick have organized an ouster vote for April.
"Chairman Jeff Frederick has been given notice of intent to remove him as chairman," said Michael Thomas, the vice chairman of the central committee. Thomas said to his knowledge this was the first time such a vote had been organized.
When Thomas went to the party headquarters in Richmond on Wednesday to notify Frederick of the effort to remove him from office, he said Frederick slipped out the front door of the building to avoid him, but later came back to the office.
Frederick is vowing to soldier on. "I have every intention of continuing as Chairman and completing my term in May 2012," he said in a statement. "I have the commitments necessary to win the vote on April 4, and will fulfill my term and the commitment to the people who entrusted me to lead our Party back to victory."
Democrats in the commonwealth are watching the infighting with glee. One of Virginia's most prominent bloggers - Ben Tribbett of the site NotLarrySabato - has been directing readers to an online petition demanding that Republicans to keep Frederick at the helm.