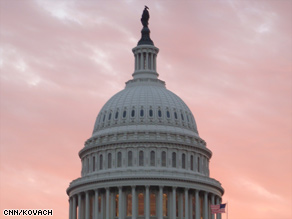 WASHINGTON/POLITICAL
For the latest political news: www.CNNPolitics.com.
CNN: Obama budget director: We'll cut pork after '09 spending bill
Facing mounting criticism of a spending package packed with billions of dollars in earmarks, the Obama administration made a vow Sunday: This president will bring a halt to pork-laden bills.
CNN: Obama appearance caps off Kennedy birthday party
President Obama led a chorus of "Happy Birthday" for Sen. Ted Kennedy on Sunday night at the Kennedy Center, topping off a celebration of the senator's 77th birthday that featured a crowd of celebrities and political heavyweights.
Washington Times: Democrats try to brand earmarks as good
Capitol Hill's top Democrats are making a full-throated effort to rebrand earmarks as good government, not a dirty word synonymous with pork-barrel hijinks.
The Weekly Standard: The Anti-Stimulus Plan
Last September, during the first presidential debate between Barack Obama and John McCain, moderator Jim Lehrer asked Obama what the growing economic crisis would mean for his policy ambitions: "What are you going to have to give up, in terms of the priorities that you would bring as president of the United States, as a result of having to pay for the financial rescue plan?" Obama's answer was so evasive that Lehrer asked him if he really meant to say that essentially nothing would change.
NYT: President's Political Protector Is Ever Close at Hand
The pepperoni and cheese pizzas had been delivered, and a meeting about how to sell President Obama's economic plan was set to begin — not at the White House, but a few blocks away in the seventh-floor apartment of David Axelrod.
Washington Post: Obama Aims to Shield Science From Politics
When President Obama lifts restrictions on funding for human embryonic stem cell research today, he will also issue a presidential memorandum aimed at insulating scientific decisions across the federal government from political influence, officials said yesterday.
CNN: Embryonic stem cell reversal is distraction, congressman says
A top congressional Republican on Sunday criticized President Barack Obama's expected decision to reverse the Bush administration's limits on embryonic stem-cell research, calling it a distraction from the country's economic slump.
NYT: Terror-War Fallout Lingers Over Bush Lawyers
When John C. Yoo, a former Justice Department lawyer, was selected by President George W. Bush in May 2004 to join a government board charged with releasing historical Nazi and Japanese war crimes records, trouble quickly followed.
WSJ: University Labs Set to Gain From Stem-Cell Switch
Lifting federal funding restrictions on embryonic-stem-cell studies will re-energize U.S. researchers and likely bring tens of millions of dollars to university labs.
International Herald Tribune: At U.S. Treasury, a sense of cascading problems and no relief
Rarely have so few people had so little time to prop up so many pillars of the economy as those in the Treasury Department under Timothy Geithner.
CNN: McCain laughs off daughter's claim his run killed her love life
Sen. John McCain is laughing off daughter Meghan's claim that his presidential campaign has taken a toll on her love life.
Washington Post Op-Ed: Martin O'Malley: Hard Lessons in Helping Homeowners
For many months, because of federal inaction, the states acted alone to combat the rising tide of foreclosures across our nation. The plan recently announced by President Obama is a welcome effort that will help keep families in their homes. As critical details are worked out, it would be useful for federal leaders to look to the experience of states in crafting solutions.
NATIONAL/INTERNATIONAL
For the latest national and international news: www.CNN.com.
CNN: N. Korea warns against intercepting 'satellite' launch
North Korea says it will retaliate if its "satellite" launch from its northeastern coast is intercepted, with the communist nation saying interference would "mean a war." The statement came as the North cut off communications with neighboring South Korea.
CNN: 12,000 U.S. troops out of Iraq by fall, military says
The number of troops in Iraq will drop by 12,000 over the next six months, the U.S. military said in a statement Sunday.
CNN: Not even renters safe from foreclosure storm
Maria Stephens barely flinches when her three rambunctious young sons strike up a baseball game in her living room. "I thought you boys were going to play in the front yard," she laughs while Christian, 2, swings a black plastic bat near the kitchen table.
NYT: Longtime Residents Not Allowed In-State Tuition
Some high school teachers worry about grooming students for admission to elite universities. Judah Lakin worries about getting his students' immigration papers so that they can afford college.
Washington Post: Public Transit Ridership Rises To Highest Level in 52 Years
Despite job losses and falling gasoline prices, record numbers of Americans rode subways, buses and commuter rail last year, boosting public transportation ridership to its highest level in 52 years, according to a survey to be released today by the American Public Transportation Association.
Business Week: America's Wired Warrior
Major Elden Lacer didn't expect to be sitting in a classroom in Oklahoma this winter. An 18-year U.S. Army veteran, he has served two tours of duty in Iraq. But Lacer isn't doing standard training. Instead, he's taking an unusual 11-week training course on electronics, learning such things as how to turn a garage door opener into a bomb detonator. He's also finding out how insurgents can turn key fobs into explosives and how tech systems called jammers can be used to disable electronic weapons. "Whoever can [use this technology] best is going to have a decided advantage," says Lacer, a former Apache helicopter pilot.
Jersusalem Post: Hamas won't sit in Fayad-led unity gov't
Hamas said on Sunday that it would not join a unity government with Fatah that was headed by outgoing Palestinian Authority Prime Minister Salaam Fayad.
Bloomberg: China Raises Tibet Security Before Revolt Anniversary
China stepped up security and border controls in Tibet before tomorrow's 50th anniversary of an anti- Chinese uprising to quell possible protests, state-run Xinhua News Agency reported.
USA Today: Companies rethink coal plants
Even as demand for electricity rises, energy companies are delaying or scrapping plans for new coal-burning power plants because of the prospect of restrictions imposed by federal global warming legislation.
Boston Globe: Boost to health coverage planned
Massachusetts will combine federal stimulus money with an existing state assistance program so that thousands of unemployed residents will be able to get health insurance at a small fraction of the usual cost, state officials are expected to announce today.
BUSINESS
For the latest business news: www.CNNMoney.com.
CNN: Some banks should be allowed to fail, say two top Republicans
Two top enate Republicans said Sunday that banks shouldn't be able to count on any more bailout money — and that the federal government should let some of them fail rather than distribute further funds to keep them afloat.
NYT: A Rising Dollar Lifts the U.S. but Adds to the Crisis Abroad
As the world is seized with anxiety in the face of a spreading financial crisis, the one place having a considerably easier time attracting money is, perversely enough, the same place that started much of the trouble: the United States.
WSJ: Lean Factories Find It Hard to Cut Jobs Even in a Slump
At a factory here that churns out plastic parts for everything from spray cans to blasting caps, laying off just one worker can be more trouble than it's worth.
WSJ: Recruiters Use Search Engines to Lure Job Hunters
Companies have long used search-engine marketing to lure online consumers. Now they're looking to draw job hunters the same way, while scaling back on competing media such as job boards and newspapers.
In Case You Missed It
To watch the latest interviews and reporting: http://www.cnn.com/video.
CNN: Orszag: Too late on earmarks
President Obama's OMB Director Peter Orszag says they'll fight earmarks in 2010, but it's too late this year.
CNN: Health care in tough times
A North Carolina man is laid off and living without health insurance, hoping for the best. CNN's John King reports.
Does "Slumdog Millionaire" accurately portray the way India treats its children? CNN's Asieh Namdar reports.
Has the next political campaign already started? CNN's Bill Schneider takes a look.