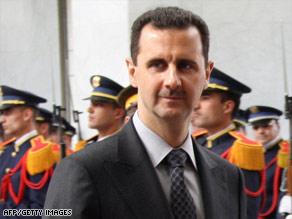 The Obama administration's success in the Middle East could rest with Syria and its president, Bashar al-Assad.
(CNN) - The practice of dealing with your enemy has a name; it's called realism. And for the Obama administration - in the Middle East and around the world - it rules the day.
Villains, axis of evil and isolation are out. "Constructive actors," axis of engagement and "let's make a deal" are in.
Syria's extended isolation isn't over because of some grand new attitude from Damascus, but in spite of it. Syrian President Bashar al-Assad appeared to patiently wait out eight years of rhetoric, sanctions and closed doors, predicting Washington would eventually see Syria's strategic importance in the region and come knocking.
President Obama's foreign policy strategists knocked, after reaching the unhappy conclusion that the road to peace in the Middle East runs through Damascus and, ultimately, through Tehran, the capital of Iran.
Assistant Secretary of State Jeffrey Feltman, the former U.S. ambassador to Lebanon, traveled to Damascus as Gaza lay in ruins and Iran creeps toward having a nuclear weapon.
U.S. concerns about Syrian support for Hamas and Hezbollah remain, as does the desire for Syria to stop meddling in Lebanon and help stop jihadists from crossing its border into Iraq. But the "to-do" lists reminiscent of the Bush administration have been replaced by the Obama administration's new cooperative tone.
Instead of ordering Syria to kick Hamas leaders out of the country, it's "what can you do to help moderate Hamas?" And Washington is now asking Damascus to help tamper Iran's nuclear ambitions, even as it considers engaging Tehran directly.