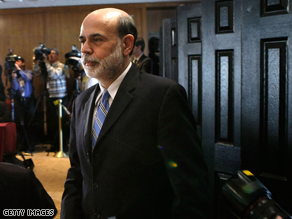 Bernanke called for new policies to help absorb future financial shocks.
NEW YORK (CNNMoney.com) - Federal Reserve chairman Ben Bernanke said Tuesday that economic recovery hinges on stabilizing the financial system, and proposed new policies aimed at absorbing financial shocks in the future.
Watch: Bank reform 'key to recovery,' says Bernanke
"Until we stabilize the financial system, a sustainable economic recovery will remain out of reach," Bernanke said in prepared remarks.
Bernanke said governments around the world must work together to address problems associated with financial institutions deemed too big to fail. These large, interconnected financial institutions that pose a "systemic risk" to economic stability, he said.