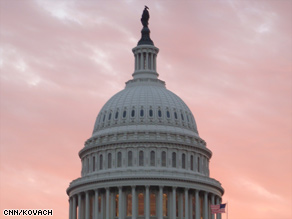 WASHINGTON/POLITICAL
For the latest political news: www.CNNPolitics.com.
CNN: Gere: Clinton 'misspoke in the moment'
Actor Richard Gere told Wolf Blitzer in an interview on Monday that Secretary of State Hillary Clinton "misspoke in the moment" when she said that human rights "can't interfere with the global economic crisis."
CNN: Top Obama officials meet to consider Gitmo detainees
Attorney General Eric Holder on Monday called together several top administration officials, including Secretary of State Hillary Clinton and Defense Secretary Robert Gates, to consider what to do with the detainees held at the Guantanamo Bay military prison.
Washington Post: Democrats Stung by Dissenters
Democratic leaders in Congress did not expect much Republican support as they pressed President Obama's ambitious legislative agenda. But the pushback they are receiving from some of their own has come as an unwelcome surprise.
NYT: Obama's Budget Faces Test Among Party Barons
What the Democratic barons of Congress liked best about President Obama's audacious budget was his invitation to fill in the details. They have started by erasing some of his.
Washington Times: Dean touts 'perfect' Obama health plan
Former Democratic National Committee Chairman Howard Dean warned that Republicans who stand against the president's health care plan or try to label it "socialized medicine" will suffer at the polls in 2010, and admitted "enough is enough" when it comes to the Rush Limbaugh hullabaloo.
Washington Post: GOP Senators Question Intelligence Pick's Ties
All seven Republican members of the Senate intelligence committee yesterday joined a small chorus of voices on Capitol Hill criticizing the choice of a former ambassador to Saudi Arabia for a senior intelligence position, concerned about his views on Israel and his past relationships with Saudi and Chinese interests.
Washington Times: Body odor: New proof of ID?
The Department of Homeland Security plans to study the possibility that human body odor might be used to determine when people are lying, or to identify individuals in the same way that fingerprints can.
NATIONAL/INTERNATIONAL
For the latest national and international news: www.CNN.com.
CNN: Dalai Lama: China makes life 'hell on Earth' for Tibetans
The Chinese government has made life "hell on Earth" for Tibetans during the half-century since a failed uprising against its rule in 1959, the Dalai Lama said Tuesday.
CNN: Report: 1 in 50 American children homeless
One in 50 children is homeless in the United States every year, according to a report released Tuesday.
NYT: U.S. Halted Some Afghan Raids Over Concern on Deaths
The commander of a secretive branch of America's Special Operations forces last month ordered a halt to most commando missions in Afghanistan, reflecting a growing concern that civilian deaths caused by American firepower are jeopardizing broader goals there.
Washington Post: Stimulus Dollars Energize Efforts To Smarten Up the Electric Power Grid
One gizmo allows you to run the dishwasher when electricity is cheapest. Another decides when to fire up the water heater if you plan on a 6 a.m. shower. Another routes solar energy from a rooftop panel to a battery in your garage and the wiring in your house.
Washington Post Op-Ed: Mondale: A Key Legal Right at Risk
More than 45 years ago, as attorney general of Minnesota, I joined with the attorneys general of 21 states in asking the Supreme Court to ensure that counsel would be appointed for all people facing criminal charges who could not afford it. The court answered our plea. Yet today, its historic decision in Gideon v. Wainwright is at risk.
CS Monitor: The coming evangelical collapse
We are on the verge – within 10 years – of a major collapse of evangelical Christianity. This breakdown will follow the deterioration of the mainline Protestant world and it will fundamentally alter the religious and cultural environment in the West.
WSJ Op-Ed: Jinpa: It's Not Hard for China to Satisfy Tibet
Today, Tibetans all over the world - at least, those outside their homeland - will mark the 50th anniversary of the Lhasa uprising of 1959. That event culminated in the flight of the Dalai Lama and thousands of Tibetans into exile in India.
LA Times: Hail to the salmon chief?
Commercial and recreational fishermen are urging President Obama to create a new position in his administration: salmon director.
LA Times: A family's year of 'buying black'
Maggie Anderson drives 14 miles to buy groceries, which might seem curious given that she lives in bustling Oak Park, Ill. She and her husband, John, travel 18 miles to a health food store in Chicago for vitamins, supplements and personal care products. They drive some distance for gasoline too.
Al Jazeera: Tibetans rally to mark anniversary
Tibetan exiles have kicked off worldwide rallies outside the White House marking the 50th anniversary of a failed uprising that led to the exile of the Dalai Lama.

Commentary: Deals with Taliban could be dangerous
It is a longstanding cliché that there is no military solution in Afghanistan, only a political one.
BBC: Older fathers link to child brain
Children of older fathers perform less well in a range of brainpower tests during infancy and early childhood, a study found.
Chicago Tribune: For sale: Cubicles, slightly used
Alongside the unemployment rate and other statistics confirming a recession, there's another unofficial indicator rising fast: Call it the used cubicle index. Mounds of used office furniture are piling up as businesses close down or cut back.
BUSINESS
For the latest business news: www.CNNMoney.com.
CNN: Consumer demand slumps in China
Slumping consumer demand pushed China's consumer and producer price indices into negative territory in February, state-run media reported Tuesday.
CNN: Counting cards at American Express
In a strange turn of events, American Express is trying to run off some of the customers it went out of its way to attract earlier this decade.
WSJ: Drug-Industry Shakeout Hits Small Firms Hard
Drug makers have begun a frenzied consolidation drive that is redrawing the industry landscape.
Financial Times: Lehman buy-out house reborn
A new private equity house was set to be born from the wreckage of Lehman Brothers on Monday, with investors in the failed US investment bank's buy-out business expected to vote for its recreation in a shrunken form.
WSJ: U.S. Weighs Further Steps for Citi
Barely a week after the third rescue of Citigroup Inc., U.S. officials are examining what fresh steps they might need to take to stabilize the bank if its problems mount, according to people familiar with the matter.
Bloomberg: Hedge Funds May Cut a Record 20,000 Jobs as Losses Erode Fees
Hedge funds may cut 20,000 workers worldwide this year, a record 14 percent of the industry's jobs, as investment losses and client withdrawals erode fees.
Forbes: Foreign Workers Banned From Wall Street
Alice Su, an M.B.A. student in Wharton Business School's class of 2009 and a resident of Hong Kong, turned down job offers and interviews because she'd been offered a coveted spot with the technology group at investment bank Merrill Lynch. But because of an amendment added to the stimulus legislation last month by Sens. Charles Grassley, R-Iowa, and Bernard Sanders, I-Vt., Merrill rescinded its employment offer.
In Case You Missed It
To watch the latest interviews and reporting: http://www.cnn.com/video.

CNN: Dalai Lama's perspective on Tibet
Dalai Lama representative Lobsang Nyandak on the 50th anniversary of the failed Tibetan uprising against Chinese rule.
CNN: Obama's funding move defended
White House spokeswoman Jen Psaki talks with Virginia Cha about the President's stem cell policy reversal.
CNN: Obama lifts stem cell ban
President Obama's executive order reverses a Bush era ban on funding for some stem cell research. CNN's Dan Lothian reports.
CNN: Mergers during a recession
Despite Merck, merger activity is way down. What kinds of deals will be done in 2009? CNN's Jim Boulden reports.