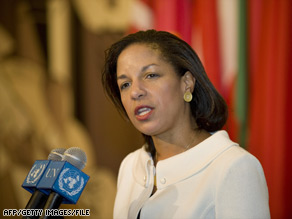 Susan Rice, the U.S. ambassador to the United Nations, has expressed concern about Iran's nuclear program.
UNITED NATIONS (CNN) - Findings in a recent U.N. report that Iran's nuclear program "has military dimensions" are "troubling," the U.S. ambassador to the United Nations said Tuesday.
"Iran also still refuses to respond constructively to IAEA [International Atomic Energy Agency] questions about its past work to develop a nuclear weapons capability," the ambassador, Susan Rice, told a U.N. Security Council subcommittee that deals with ensuring sanctions against Iran are being enforced.
"The United States urges its fellow Security Council members not only to take note of the IAEA's serious findings but also to vigorously support the IAEA in its continuing investigations of these critical matters."
The IAEA is the U.N. nuclear watchdog agency that is charged with inspecting Iran's nuclear facilities.
Rice said Tuesday's meeting was "the Security Council's first session on Iran since the release of the IAEA director general's most recent report on Iran - a report that makes it clear that Iran is still not complying with its international nuclear obligations, including resolutions of this council."