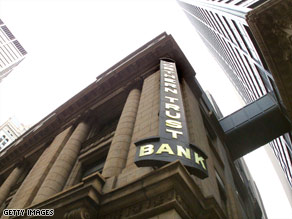 Asset manager Northern Trust told members of Congress last month that it wanted to repay the $1.57 billion in government funds as quickly as prudently possible.
NEW YORK (CNNMoney.com) - Taxpayers hate the bank bailout. Lawmakers too. And now it looks like some of the bailed out banks themselves are starting to get fed up with it as well.
Just weeks after Congress removed a key hurdle that prevented banks from paying back funds from the Troubled Asset Relief Program, or TARP, some banks are already queuing up with checks in hand.
So far, three banks have formally declared their intentions to pay back the government. Last month, Louisiana-based IberiaBank Corp. (IBKC) said it would return $90.6 million while TCF Financial (TCB), a bank headquartered just outside of Minneapolis announced last week it was returning $361.2 million.
On Tuesday, New York City-based Signature Bank (SBNY) became the latest, announcing at a conference it had filed notice with the Treasury Department to pay back $120 million in TARP funds.
This list doesn't include the dozens of institutions that were approved for government aid, but subsequently decided to turn down the money. New Jersey-based lender Sussex Bancorp (SBBX) added itself to that group after it withdrew from the program last week.
But even more banks are poised to return TARP money, including some of the nation's largest.