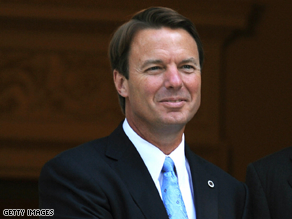 Edwards spoke at Brown University Tuesday.
(CNN) - Former Democratic presidential candidate John Edwards waded back into the public eye Tuesday, months after admitting to an extramarital affair with a campaign aide that likely put an end to his political career.
In a speech at Brown University in Providence, Rhode Island, the two-time presidential candidate focused his remarks on issue of poverty, calling it a "fundamental issue," according to the Raleigh News and Observer.
In a question and answer session following the speech, only one student touched on the controversy that unfolded last summer, asking Edwards if politicians should be held to a higher standard than ordinary citizens.
"I don't think it's for a candidate to decide what's appropriate," Edwards said. "It's something for every American to decide for themselves."
"I have my own view, which I'm going to keep to myself tonight," he added.
Since admitting to an affair with former campaign videographer Rielle Hunter last August, the onetime vice presidential candidate has kept a low profile. Wife Elizabeth Edwards has continued to advocate for universal health care and is set to release a book in the coming months entitled, "Resilience: Reflections on the Burdens and Gifts of Facing Life's Adversities."