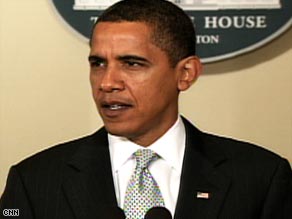 President Obama says future earmarks should be made public on lawmakers' Web sites.
WASHINGTON (CNN) - President Obama on Wednesday called for a reform of the much-maligned federal earmarking process.
Earmarks are unrelated pet projects that members of Congress insert in spending bills.
The president said it was time for Congress and the White House to embrace a new set of guiding principles.
His remarks came the day after the Senate passed a $410 billion spending bill that included nearly 9,000 earmarks, which are projects designed to benefit individual legislators' districts.
The earmarks in the spending bill are worth nearly $8 billion. Many critics have deemed them as wasteful, and some observers have questioned Obama's pledge to end such spending.
Some lawmakers urged Obama to veto the bill - saying it goes against the president's campaign pledge.
Obama said that while he would sign the bill, which funds the government for the remainder of the current fiscal year, future earmarks should "have a legitimate and worthy public purpose."