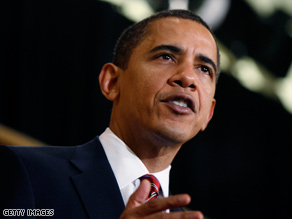 President Obama says recent problems in the markets are only part of a larger crisis.
WASHINGTON (CNN) - President Obama took aim Thursday at conservative critics who claim that he is using the economic crisis to ram through an unrelated, expansive domestic agenda.
The president told a group of business leaders that although he is not interested in increasing government's role in America, a sustained economic recovery will be impossible if the country fails to address long-term structural problems in its education, energy and health-care systems.
Watch the president defend his priorities to business leaders
"I am not choosing to address these additional challenges just because I feel like it or because I'm a glutton for punishment," Obama said at a meeting of Business Roundtable members.
"I am doing so because they are fundamental to our economic growth and ensuring that we don't have more crises like this in the future."