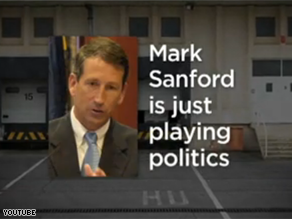 National Democrats are taking on Gov. Sanford in a new ad.
WASHINGTON (CNN) – National Democrats will target South Carolina Gov. Mark Sanford in a new television ad next week that criticizes him for deciding not to accept all of the stimulus money set aside for his state, CNN has learned.
The Democratic National Committee will begin airing the ad Monday on cable television in Columbia, South Carolina, DNC spokesman Damien LaVera said. The 30-second ad is scheduled to run for "at least a week," he added.
"South Carolina is facing tough times – but Governor Sanford is playing politics instead of doing what's right," the DNC charges in the ad that was reviewed by CNN. "Turning down millions in recovery act funds, putting politics ahead of health care, jobs and schools."
It is the first TV ad released by the DNC since President Obama was sworn into office in January.
Sanford, a Republican who is considered a potential presidential candidate in 2012, has maintained that spending the funds would only make the state's financial situation worse in the long term. Instead, the governor told state legislators earlier this week that he wants to use a quarter of his state's stimulus money to pay down its debt. Sanford's request applies only to the $700 million in stimulus funds that he has discretion over, while the remaining $2.1 billion set aside for the state will be spent according to federal guidelines.
UPDATE: Joel Sawyer, Communications Director to Gov. Sanford, said in an issued statement that Sanford "continues to believe that problems created by too much debt will never be solved by more debt."
"It's time to put the partisan politics aside and for people who supported this stimulus legislation to start shooting straight with taxpayers on who is paying the bill for all of this spending. This so-called 'stimulus' represents a federal predatory loan, the cost of which will be borne by future generations who will never have a chance to vote from office the very people who are saddling them with unprecedented spending and guaranteed future tax increases," Sawyer added.
CNN.com's Kristi Keck contributed to this report