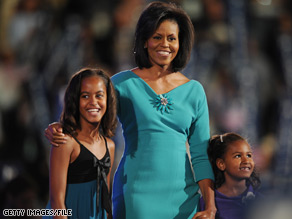 How are the Obama girls adjusting to their new life as the nation's first daughters
(CNN) - How are the Obama girls adjusting to their new life as the nation's first daughters? Mrs. Obama says the White House's newest kids are "doing great."
"I think they're doing great because I've been able to strike a balance," the first lady said in an interview Friday with Good Morning America. "I think I have a pretty full plate, but I still have time to be home for homework and to make sure I'm there before they leave and to go to their parent-teacher conferences and all the things that it's important to do as a parent."
Mrs. Obama doesn't take all the credit for helping raise her girls, Malia, 10 and Sasha, 7. The first lady praised her mother, Marian Robinson, for taking on maternal tasks while she is away.
"I think that all of our transition has been eased because of her presence. She's so non-impressed by any of this. She keeps all of our feet on the ground," Mrs. Obama said of her live-in mother. "She's picking them up, she's getting them through homework, she's making sure that they practicing piano, all the things that moms would do, but she does it with that extra little kick of love. She's enjoyed the transition, as well."
The Obamas have expressed that they don't want their daughters to be "too exposed" as to maintain a sense of normalcy while living in the nation's executive mansion. But, Mrs. Obama said that there is a power of children connecting with other children that the media provides. "That's been wonderful for the nation to have two little kids in the White House that they can connect to," she said.
According to the first lady, Malia and Sasha have explored the White House, even "popping" into the Oval Office once in a while, but they haven't broken anything, yet. "We've had some guests who've broken some things, but not the kids, and they know who they are," the first lady laughed.