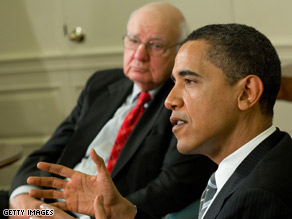 The president met with Paul Volcker Friday.
WASHINGTON (CNN) - President Barack Obama continued to hammer home a "back-to-basics" economic message Friday, saying that U.S. markets, while fundamentally sound, need a systemic overhaul of financial-sector regulations to ensure a "post-bubble" model of future growth.
The president also reiterated his claim that sustainable long-term growth will not be possible without a restructuring of the nation's health-care, energy, and education systems.
America still has the "most dynamic free-market economy on Earth," Obama said in an Oval Office meeting with one of his top economic advisors, former Federal Reserve Chairman Paul Volcker.
But the country needs to "go back to fundamentals. And that means driving our health-care costs down. It means improving our education system so our children are prepared and we're innovating in science and technology. And it means that we're making this transition to the clean-energy economy.
"Those are the priorities reflected in our budget, and that is part and parcel with the short-term steps that we're taking to make sure that the economy gets back on its feet."
The president once again emphasized that the administration is "spending every day working through how to get credit flowing again so that businesses, large and small, as well as consumers, are able to obtain credit and ... get this economy moving again."

The administration's plan for easing the credit crunch, while still vague, appears to involve enticing private investment firms to borrow billions from the federal government to buy up toxic investments from troubled banks.
On the housing side, the Obama plan calls for companies to help struggling borrowers change their mortgage-loan terms, but it applies only to those whose payments are less than 31 percent of their monthly income, or about 4 million people.
In a different initiative, about 5 million homeowners who haven't missed a payment can refinance into lower-cost loans even if they have little or no equity.
Earlier Friday, National Economic Council Director Larry Summers said it is still unclear how long it will take for a broad-based economic recovery to take hold.
Summers, speaking about the administration's overall economic plan to a packed crowd at the Brookings Institution think tank, admitted that "no one can know just when and how its positive effects will be fully felt."
Summers did say that he sees some early signs that the economic crisis could be starting to ease. He pointed to consumer spending, which collapsed during the holiday season but now appears to be stabilizing.
- CNN's Jennifer Liberto contributed to this report