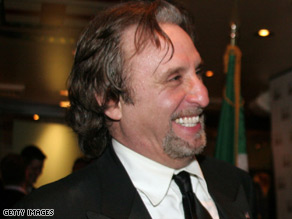 Ron Silver is seen in this 2006 photograph. He had a recurring role in TV's The West Wing.
NEW YORK (CNN) - Actor and political activist Ron Silver, who played a recurring role in TV's presidential drama "The West Wing," and who also let his political views play out in real life, died Sunday after a two-year battle with esophageal cancer, according to a colleague.
Robin L. Bronk, executive director of The Creative Coalition, said Silver, a New York native, died in his sleep with his family around him.
"Nothing could hold Ron back, not even a debilitating illness. His contributions as an artist and activist will never be forgotten," said Bronk, who runs an organization founded in 1989 by Silver, actor Christopher Reeve and other prominent figures in the arts as a political advocacy organization for the entertainment industry.