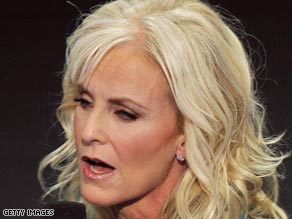 Cindy McCain traveled to Rwanda last year for ONE.
(CNN) – Cindy McCain and former Senate Majority Leader Tom Daschle will accept an award for the global anti-poverty group ONE in Washington Tuesday.
The organization is being given the Center for Global Development's "Commitment to Development Award" for its outreach work during the 2008 presidential campaign. Daschle, along with former Senate Majority Leader Bill Frist, chaired the group's campaign-linked efforts last year.
McCain, wife of Republican presidential nominee John McCain, traveled to Rwanda last July for ONE.