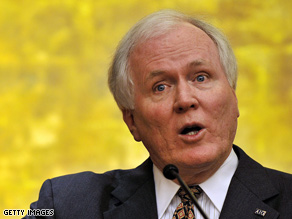 Liddy will be in the hot seat on Capitol Hill later this week.
WASHINGTON (CNNMoney.com) - Lawmakers outraged about the bailout of American International Group will get another forum Wednesday, when the company's CEO is set to go before a House panel probing the government's involvement in the embattled insurer.
Edward Liddy, the AIG chief executive, is sure to be grilled about $160 million in bonuses paid to senior employees last week.
AIG has received three bailout packages, totaling more than $170 billion, in large part because it had issued risky credit default swaps - a kind of insurance for bad loans made by banks and investment companies.