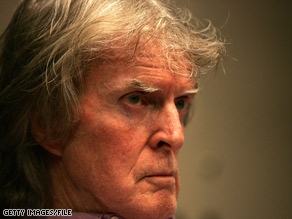 Radio shock jock Don Imus has been diagnosed with prostate cancer.
NEW YORK (CNN) - Radio host Don Imus has prostate cancer.
The shock jock made the announcement on his radio show Monday morning.
Imus learned of the diagnosis last Wednesday, said Laurie Cantillo, program director for WABC-AM of New York.
A bone scan indicated that the cancer has not spread, she said, and doctors believe it is fully treatable.