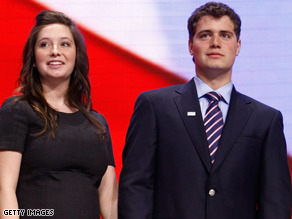 Levi Johnston said he and Bristol could get back together again.
(CNN) - Could one of America's most famous ex-couples get back together again?
In an interview with ABC News, Levi Johnston - Bristol Palin's former boyfriend and father of her newborn baby Tripp - said it's possible the couple that made a splash at the Republican National Convention last summer could once again be an item.
"We'll see, we'll see how it is," The 19 year-old said in an interview on "Good Morning America" airing Monday. "We'll just remain friends for now. We're both cool with that decision, and we'll see."
The two were thrust into the spotlight last September when Alaska Gov. Sarah Palin, Bristol's mother, was chosen to be the Republican vice presidential candidate. During the GOP's national convention in Minneapolis, Palin revealed then-17 year-old Bristol was pregnant with Johnston's baby and the two had plans to marry.
The former vice presidential candidate later indicated the wedding would occur this summer. But news surfaced last week the two had split.
In the interview with ABC, Johnston said the breakup occurred after a fight.
"We were just, we were in a fight," he said. "And trying to see if we can make things work. But this is what it kind of ended up turning into. But we'll see what happens.
"It's just us not, me not being mature enough, or something, and having a kid and thinking ... it could be better - better for us to separate for a while," he added.
But regardless if the two ever get back together, Johnston said he plans to play an important role in his young son's life.
"I'd give anything for, to be with him," he said. "[There are] a lot of changes when you're a father, when you hold him for the first time, you know. I don't do a lot of things I used to anymore, I'll tell you that."
"[I'm] growing up a lot," he added. "So, it's fun. It's good times."
Meanwhile, Sarah Palin told People magazine over the weekend daughter Bristol is "doing just great."