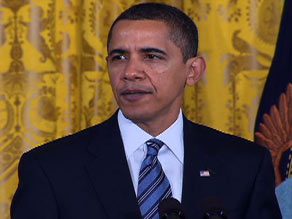 The president announced a plan Monday to help small businesses during the credit crisis.
WASHINGTON (CNN) - President Obama vowed Monday to ease the financial plight of the nation's small businesses, promising immediate action to revive frozen credit markets.
Obama made his remarks to reporters after he and Treasury Secretary Tim Geithner met in the White House with representatives of the Small Business Administration.
Watch: 'Small businesses are the heart of the American economy'
The president called small businesses "one of the biggest drivers of employment that we have" and said his administration is "working diligently to increase liquidity throughout the financial system."
But he cautioned it will be a long-term effort. "Understand, this is still going to be a first step in what is going to be a continuing effort to make sure people get credit out there," he said.
Many small businesses, drowning from dried-up coffers and unpaid bills, are having a tough time getting loans from lenders.