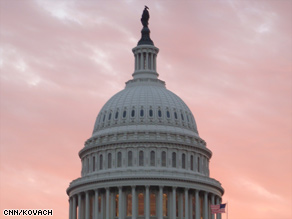 WASHINGTON/POLITICAL
For the latest political news: www.CNNPolitics.com.
CNN: Cheney says Obama's policies 'raise the risk' of U.S. terror attack
Former Vice President Dick Cheney on Sunday defended the Bush administration's economic record, the invasion of Iraq and the treatment of suspected terrorists, warning that reversing its anti-terrorism policies endangers Americans.
WSJ: Ambitious Agenda Has Obama Appointees Stretched Thin
President Barack Obama has filled nearly twice as many government posts as the previous two presidents did at this point in their first terms. The problem is, the current administration has so much more on its plate that it needs more key people in place to advance its ambitious agenda.
NYT: Europe's Hedging on Inmates Clouds Guantánamo Plans
European countries that have offered to help the Obama administration close the detention center at Guantánamo Bay, Cuba, have begun raising questions about the security risks and requirements if they accept prisoners described by the Bush administration as "the worst of the worst," according to diplomats and other officials.
Washington Post: Obama Enlists Campaign Army In Budget Fight
President Obama will kick off an all-out grass-roots effort today urging Congress to pass his $3.55 trillion budget, activating the extensive campaign apparatus he built during his successful 2008 candidacy for the first time since taking office.
CS Monitor: Despite Steele's rough start, many in GOP optimistic
No doubt about it, Michael Steele has had a rough start as chairman of the Republican Party.
CNN: Vice president's mother in hospital
Vice President Joe Biden's 91-year-old mother was hospitalized Sunday after a fall at her home in Delaware, according to Biden's office.
McClatchy: Greatest threat to Obama spending plan? Moderate Dems
Government spending on most domestic programs is growing at its fastest pace in nearly 30 years, and a lot of worried Democrats are seeking ways to rewrite and reduce the size of President Barack Obama's budget proposals.
NYT: Government Combs Through G.M.'s Survival Plan
Treasury officials and management experts hired by the Obama administration quietly began combing through General Motors' latest downsizing plan in Detroit last week, in a last-minute effort to assess whether more government aid could make the company viable, or whether the better choice was a managed bankruptcy.
Miami Herald: Florida's go-to man ready to lead FEMA
Craig Fugate's next rescue mission will be his biggest yet. As Florida's chief of emergency management, he has literally been in the eye of the hurricane, over and over again. Now, as President Barack Obama's pick to run the Federal Emergency Management Agency, he carries decades of in-the-trenches experience to a high-profile job with no margin for error.
WSJ Op-Ed: Shelby Steele: Why the GOP Can't Win With Minorities
Today conservatism is stigmatized in our culture as an antiminority political philosophy. In certain quarters, conservatism is simply racism by another name. And minorities who openly identify themselves as conservatives are still novelties, fish out of water.
McClatchy: Election buddies McCain, Graham part ways over earmarks
Lindsey Graham's close friendship with John McCain doesn't matter one wit when it comes to the Arizona senator's disdain for congressional pork.
NATIONAL/INTERNATIONAL
For the latest national and international news: www.CNN.com.
CNN: AIG names recipients of its bailout money
Troubled insurance giant AIG, already under fire for intending to pay out $165 million in bonuses and compensation, succumbed Sunday to congressional pressure, identifying banks that received chunks of the company's billions in federal bailout funds last year.
CNN: Pakistan to reinstate judges after protests
All judges sacked by Pakistan's previous president, including Chief Justice Iftikhar Muhammad Chaudhry, will be reinstated, Prime Minister Syed Yusuf Raza Gilani announced Monday after days of massive protests by lawyers demanding government action.
CNN: Leftist claims El Salvador presidency
Mauricio Funes, a member of a political party that waged guerrilla war against the government 17 years ago, claimed the presidency of El Salvador on Sunday night.
Washington Post: Red Cross Described 'Torture' at CIA Jails
The International Committee of the Red Cross concluded in a secret report that the Bush administration's treatment of al-Qaeda captives "constituted torture," a finding that strongly implied that CIA interrogation methods violated international law, according to newly published excerpts from the long-concealed 2007 document.
CS Monitor: A new Cuban missile crisis? Russia eyes bomber bases in Latin America
A top Russian military official has confirmed that the Kremlin is thinking of parking some of its strategic bombers in Cuba or Venezuela, within easy range of the continental United States.
Telegraph UK: Britain showing signs of heading towards 1930s-style depression, says Bank
The country is displaying early symptoms of being trapped in a so-called "debt deflation trap" where families find themselves pushed further and further into the red every month, according to a Bank report published today.
USA Today: Reports question U.S. shield of Europe
After 24 years and more than $100 billion spent to develop a U.S. missile defense, an American-operated system proposed for Europe would cost billions more to deploy and still may fail, a series of independent reports concludes.
NYT: Bargaining Down the Medical Bills
When money is tight, everything is negotiable — including your health care bills.
US News & World Report: Stem Cells: 10 Diseases They May—or May Not—Cure
With President Obama's recent lifting of the ban on federal funding for embryonic stem cell research, scientists now have new prospects for developing medical treatments.
USA Today: Tide turns against schools as foreclosures rise
Way back when times were good — last April — builders showed up one day at Forest Grove Middle School and gutted a little-used classroom off the gym.
Washington Post: U.S. Challenged On Sealing of Detainee Files
The Justice Department has filed "unclassified" records in federal court outlining the government's cases against more than 100 detainees at the U.S. military prison at Guantanamo Bay, but the records are not being made public.
LA Times: Therapy to suppress peanut allergies is reported
After years of frustration, allergists meeting in Washington proclaimed a small but significant victory against life-threatening peanut allergies.
USA Today: Companies cut synthetic hormone from dairy products
Got rbST? That's not the latest space critter in a George Lucas film. It's a synthetic growth hormone (recombinant bovine somatotropin) used to spur cows to produce more milk. Many dairies and retailers — including General Mills (GIS), Dannon and Wal-Mart (WMT) — are nixing it from dairy products in a world of rising food fears.
BUSINESS
For the latest business news: www.CNNMoney.com.
CNN: Obama to announce plan to boost lending to small businesses
President Obama and Treasury Secretary Tim Geithner on Monday will announce administration plans to make lending to small businesses more attractive, two senior administration officials confirm.
CNN: Bernanke: Recovery to begin next year
Federal Reserve Chairman Ben Bernanke said on Sunday that government officials are laying the groundwork for an economic revival and that a "depression" can be avoided – acknowledging however that a full recovery will take time and that there are still obstacles.
WSJ: U.S. to Toughen Finance Rules
The Obama administration, moving with increasing speed, has inked the main contours of its plan to revamp financial-market oversight - changes that will ripple through the economy, affecting everything from the operations of international banks to consumer protection.
Business Week: Investing for the Long Uncertainty Ahead
Economists are characterizing the current financial crisis as everything from the Great Recession to possibly something on the scale of the Great Depression of the 1930s. Just how long will the pain and uncertainty last? Nobody knows. With the jobless rate expected to keep climbing, consumer spending, a key prop of the U.S. economy, may not rebound anytime soon. Meanwhile, Washington has yet to articulate a viable solution to the banking morass. That makes the odds for a recovery within the year or even the next two look worse with each passing day.
WSJ: Pension Bills to Surge Nationwide
Many state and city governments reeling from financial woes are about to get whacked again, this time by an unforeseen increase in their pension bill thanks to market declines.
Financial Times: Royal Mint is top target for sell-off
The Royal Mint, which manufactures coins for the UK and over 50 other countries, has moved to the top of the government's privatisation list as it looks for ways to ease the huge pressure on public finances in the wake of the banking crisis.
NYT: Computer Makers Prepare to Stake Bigger Claim in Phones
The computer industry has hit upon its Next Big Thing. It is called a phone.
Miami Herald: MBA's appeal grows in a shrinking economy
Add this number to the many fact and figures being bandied about during this recession: 246,957, the record-high number of GMAT exams administered to aspiring MBA candidates last year. So far this year, numbers of test-takers show the volume looks to be even greater.
Providence Journal: Under new federal regulations, retailers must do a better job explaining the downside of no-interest or same as cash deals.
People who have taken advantage of "no interest" or "same as cash" deals to buy big-ticket items such as HDTVs, living-room furniture and appliances may have a harder time finding those deals next year when new federal rules go into effect.
In Case You Missed It
To watch the latest interviews and reporting: http://www.cnn.com/video.
CNN: Cheney: I worry very much
In a CNN exclusive, Former Vice President Dick Cheney discusses Obama policies and the economy on "State of the Union."
CNN: Cheney touts accomplishments
In his first TV interview since leaving office, former Vice President Dick Cheney joins "State of the Union."
CNN: AIG names names
CNNMoney.com's Poppy Harlow reports on the banks that dealt with AIG and looks ahead to this week's stock market.
CNN: Obama Administration Jobs
President Obama is having a lot of trouble filling postions in his administration. CNN's Bill Schneider takes a look.
CNN: Amtrak Stimulus or Waste?
CNN's Brianna Keilar takes a look at new funding for Amtrak and whether it's a good investment.