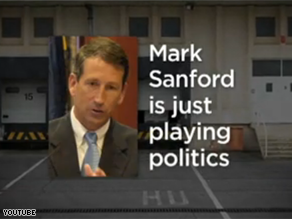 National Democrats are taking on Gov. Sanford in a new ad.
(CNN) – South Carolina's Republican governor called on President Obama Monday to call a halt to a Democratic ad that slams him over his position on stimulus spending.
Mark Sanford ended up in the crosshairs of the Democratic National Committee late last week after he announced his decision to seek permission from the White House to use $700 million in the stimulus funds due his state to pay down debt.
"South Carolina is facing tough times – but Governor Sanford is playing politics instead of doing what's right," says the announcer in a DNC television spot that begins airing Monday in Columbia, South Carolina. "Turning down millions in recovery act funds, putting politics ahead of health care, jobs and schools."
Related: South Carolina student wants stimulus funds for school
Sanford, who criticized the ad Friday, said Monday that President Obama should use his influence to pull the ad from the airwaves. "I don't think this approach of targeting ads against anyone who sees an issue a little differently represents the kind of so-called 'change' many people were voting for in November," said Sanford.
The decision to seek use the $700 million – or roughly a quarter of the total money due South Carolina from Obama's stimulus package – "still means a $2.1 billion spending windfall would come to our state," Sanford also said Monday. "[A]nd one has to ask isn't there a point when enough is enough in spending money we don't have?"
After quoting from Obama's inaugural address, Sanford "respectfully ask[s] [Obama] to end this ad . . . . and to ask his Democratic National Committee to put an end to this mudslinging and get back to an honest debate about the future of our country."
In a Friday statement, a spokesman for Sanford called the stimulus money "a federal predatory loan, the cost of which will be borne by future generations who will never have a chance to vote from office the very people who are saddling them with unprecedented spending and guaranteed future tax increases."