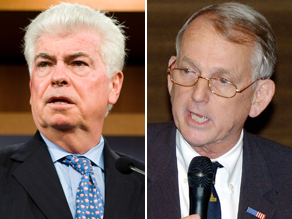 Dodd is facing a challenge from Rob Simmons.
WASHINGTON (CNN) - The National Republican Senatorial Committee is celebrating St. Patrick's Day at Christopher Dodd's expense.
With a new Web ad out Tuesday - just one day after a prominent Connecticut Republican announced he will try to unseat Dodd in 2010 - the NRSC is hoping to further weaken the vulnerable Senate Democrat, who is of Irish descent.
Entitled "The Luck O' The Dodd," the animated video claims Dodd has lost touch with his constituents, in part because he owns a home in Ireland and moved to Iowa in 2007 during his failed presidential bid.
"Connecticut must not be good enough for the ol' lad," the video's narrator says in an Irish lilt. "The whole Dodd clan even moved to Iowa. Home sweet home! But not as sweet as his sweetheart mortgage deal from his friend Angelo Mozilo! How lucky!"
Dodd, the chairman of the Senate Finance Committee, has seen his approval ratings tumble over the last year, thanks in part to a pair of mortgages he obtained from embattled mortgage lender Countrywide Financial, which is chaired by Mozilo.
A February Quinnipiac poll indicated that only 41 percent of Connecticut voters approve of the way Dodd is handling his job, with 48 percent disapproving.
The ad says Dodd's poll numbers "are bottoming out like a pint of Guinness."