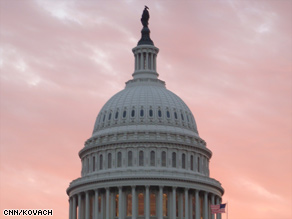 WASHINGTON/POLITICAL
For the latest political news: www.CNNPolitics.com.
CNN: Congress missed opportunity to prevent bonuses in stimulus bill
Democratic leaders scrambling to strip AIG executives of bonuses are having a hard time answering a key question – why didn't Congress act to prevent the bonuses in the first place?
CNN: FBI gets 270,000 applications for 3,000 jobs
With thousands of Americans looking for jobs, many businesses are saying: Sorry, we're not hiring. The Federal Bureau of Investigation is sending out another message: Come right this way.
CNN: Borger: Where's the White House's tipping point?
When the White House first got wind of the executive bonuses at American International Group, the disbelief was palpable.
Washington Times: EXCLUSIVE: Commerce pick tied to China cash
Commerce Secretary nominee Gary Locke, whose job would include approving sensitive exports to China, has performed legal work for companies doing business with Beijing and was forced to refund several political donations that he received in the 1990s from key figures in a Chinese influence-buying investigation.
NYT: U.S. Weighs Taliban Strike Into Pakistan
President Obama and his national security advisers are considering expanding the American covert war in Pakistan far beyond the unruly tribal areas to strike at a different center of Taliban power in Baluchistan, where top Taliban leaders are orchestrating attacks into southern Afghanistan.
LA Times: Obama wavers on pledge to declare Armenian genocide
The Obama administration is hesitating on a promised presidential declaration that Armenians were the victims of genocide in the early 20th century, fearful of alienating Turkey when U.S. officials badly want its help.
Washington Post: The Ties That Align
Like two old girlfriends catching up, they ignored onlookers, hugged and laughed. Donna Brazile, the political strategist and Washington veteran, peppered Environmental Protection Agency Administrator Lisa Jackson with questions.
LA Times: Conservatives invoke Obama in Voting Rights Act challenge
The election of Barack Obama as president has been hailed as a crowning achievement of America's civil rights movement, the triumph of a black candidate in a nation with a history of slavery and segregation.
Washington Times: GOP gunning for a suddenly vulnerable Dodd
Five-term Connecticut Sen. Christopher J. Dodd unexpectedly has emerged as one of the most vulnerable Senate Democrats heading into the 2010 election cycle, with a new poll, a new challenger and new ethics problems all surfacing in recent days to give Republicans hope for taking the seat.
WSJ: Citi Losing Economist to Treasury
Citigroup Inc.'s chief economist is leaving the company for a job at the Treasury Department, according to an internal Citigroup memo.
McClatchy: Obama judicial pick will test pledge to end confirmation wars
President Barack Obama held out his first judicial nominee on Tuesday as evidence that he wants to end the political sniping over judges that marked much of the past eight years.
NYT Op-Ed: Friedman: Obama's Real Test
When you hear a sitting U.S. senator call for bankers to commit suicide, you know that the anger level in the country is reaching a "Bonfire of the Vanities," get-out-the-pitchforks danger level. It is dangerous for so many reasons, but most of all because this real anger about A.I.G. could overwhelm the still really difficult but critically important things we must do in the next few weeks to defuse this financial crisis.
LA Times: Obama's a hot ticket in O.C.
They gathered by the hundreds, some who had spent the night in tents or curled up on lawn chairs on the hard asphalt of the Orange County Fairgrounds for a chance to see President Obama.
McClatchy: Can states override govs on stimulus? Report casts doubts
A new nonpartisan congressional report to be released on Wednesday raises constitutional questions about whether state legislatures have the power to seek economic-stimulus funds that their governors reject.
The New Yorker: Toobin: The Replacement
Roland Burris still occupies temporary office space in the Dirksen Senate Office Building, in a suite far from the floor of the United States Senate, so when the buzzer signalling an imminent vote interrupted his lunch the other day, he put down his plastic soupspoon, left his sandwich untouched, and hustled out into the marble hallway. "I'm not missing any votes," he said. "They'll get on me for that, too."
CNN: Ingraham to Meghan McCain: You're a 'useful idiot'
Laura Ingraham is calling Meghan McCain a "useful idiot" and a "flavor of the month" — the latest salvo in the war of words between the conservative radio host and the daughter of former Republican presidential candidate John McCain.
NATIONAL/INTERNATIONAL
For the latest national and international news: www.CNN.com.
CNN: Reports of sexual assault in military rise in 2008
Reports of sexual assault among U.S. troops stationed in Iraq and Afghanistan rose 26 percent from the previous year, according to an annual Pentagon report presented to Congress on Tuesday.
CNN: Senators want to fight Mexican drug cartels' expanding influence
A bloody war between Mexican drug cartels is no longer solely a south-of-the-border problem, members of Congress said Tuesday at a hearing on the issue.
NYT: Cocaine Trade Helps Rebels Reignite War in Peru
First the soldiers came to Río Seco, a coca-growing village in the lush mountain jungles of southern Peru. "They called us subversives and they opened fire," said Benedicto Cóndor, 55, a coca farmer. They shot dead four people at close range, including a woman who was five months pregnant, witnesses said. Two children, ages 6 and 1, disappeared and are believed dead.
Washington Post: Trade Barriers Could Threaten Global Economy
At least 17 of the 20 major nations that vowed at a November summit to avoid protectionist steps that could spark a global trade war have violated that promise, with countries from Russia to the United States to China enacting measures aimed at limiting the flow of imported goods, according to a World Bank report unveiled yesterday.
WSJ: Iran's Cheap Goods Stifle Iraq Economy
Brick-factory owner Dhary al-Shimary is thinking of calling it quits after 30 years in business, even though Iraq's demand for bricks has never been higher.
Al Jazeera: Philippine jobless rate climbs
The unemployment rate in the Philippines climbed to 7.7 per cent in January, government data has shown – a jump from the 6.8 per cent a year ago.
BBC: Sarkozy survives vote over Nato
The French parliament has backed President Nicolas Sarkozy's decision to take France fully back into Nato, rejecting a no-confidence motion.
International Herald Tribune: Despite downturn, airfares generally increasing in Europe
Fuel prices have plunged, the world economy is in a tailspin and airlines are running all kinds of promotions to fill empty seats. You would think ticket prices would be coming down. Think again.
Jerusalem Post: UNGA president: US demonizing Iran
The outspoken president of the UN General Assembly on Tuesday accused the United States of demonizing Iran's president and criticized the International Criminal Court for issuing an arrest warrant for Sudan's leader for war crimes in Darfur.
CNN: Pope visits Africa, reaffirms ban on condoms
Pope Benedict XVI refused Wednesday to soften the Vatican's ban on condom use as he arrived in Africa for his first visit to the continent as pope.
Washington Post Op-Ed: Liddy: Our Mission at AIG: Repairs, and Repayment
The government rescue of American International Group (AIG) and other financial firms has produced a palpable wave of anger on the part of Americans and a rising public demand for accountability from corporate and government leaders.
NYT: As Jurors Turn to Web, Mistrials Are Popping Up
Last week, a juror in a big federal drug trial in Florida admitted to the judge that he had been doing research on the case on the Internet, directly violating the judge's instructions and centuries of legal rules. But when the judge questioned the rest of the jury, he got an even bigger shock.
Washington Post: A Silenced Drug Study Creates An Uproar
The study would come to be called "cursed," but it started out just as Study 15.
WSJ: Jump in Home Construction Raises Hopes
The government reported Tuesday a rebound in home construction and rising wholesale prices last month, the latest figures showing firmer demand amid the U.S. recession.
CS Monitor: Obama pushes to reward great teachers
In a major speech on education last week, President Obama echoed a call he'd made many times on the campaign trail: Reward excellent teaching with extra pay.
Denver Post Editorial: Let AIG execs keep bonuses
Who isn't angry about the $165 million in bonuses paid to executives at insurance giant American International Group?
USA Today: TSA: More gate searches in store for fliers
A new, more aggressive effort by airport screeners aims to halt randomly selected passengers for a security check just before they step onto their departing plane, according to a government memo obtained by USA TODAY.
BUSINESS
For the latest business news: www.CNNMoney.com.
CNN: Geithner: AIG must pay back bonus money
Insurance giant AIG will have to return to the Treasury Department the $165 million it just paid out in executive bonuses, Treasury Secretary Timothy Geithner said Tuesday in a letter to congressional leaders.
CNN: Analysts: Next bailout will be a tougher sell
The American International Group debacle could be setting President Barack Obama up for trouble, should his administration try to move forward with additional bailouts.
WSJ: Ponzi Scheme Victims Get a Tax Break
The Internal Revenue Service announced unprecedented tax relief for victims of Ponzi schemes, saying many of those affected could deduct up to 95% of their losses immediately.
Business Week: Trade War with Mexico?
The Obama Administration, by putting an end to a program that allowed some Mexican long-haul trucks into the U.S., has triggered a slew of retaliatory tariffs from Mexico. The White House seems to be looking for a way to resolve a dispute that it failed to avert, despite much forewarning. But it looks like it may be too late to avoid the $2.4 billion in tariffs altogether, experts say.
NYT: World Bank Lowers China Forecast
The World Bank on Wednesday lowered its growth forecast for China to 6.5 percent, reflecting the extent to which the global slowdown is hitting even that nation's relatively well-insulated economy.
WSJ: Dubai Suffers Downgrades; S&P Expects Debt Burden to Soar
In a further sign of uncertainty over Dubai's economic prospects, Standard & Poor's Rating Services Tuesday lowered its assessment on a slew of the sheikhdom's companies and warned that its debt payments may almost triple by 2011.
Bloomberg: BOJ to Buy More Government Bonds to Revive Economy
The Bank of Japan will increase its government bond purchases from banks as Prime Minister Taro Aso prepares his third stimulus package to revive the economy.
NYT: New Jersey's Tax Credit Program Faces an Office Downturn
It seems like an offer a big office tenant could not refuse: space in a new building on a major train line, available for essentially next to nothing, for up to 10 years. That is the equation for any tenant deciding to lease at least 200,000 square feet in a planned 25-story glass tower that would rise in Trenton.
Forbes: Warm Fuzzies For Pfizer Bonds
Bond-market investors around the world may still be wary of risk, but they're happy to finance Big Pharma's urge to merge. Pfizer had no problem placing a huge amount of bonds on Tuesday to pay for its $76.4 billion purchase of Wyeth.
Jersusalem Post: Recession could have an upside, Ben-David says
There could be a 'silver lining' to the dark cloud of the current economic recession, according to Dr. Dan Ben-David, executive director of the Taub Center for Social Policy Research and an economics professor at Tel Aviv University's Department of Public Policy.
Telegraph UK: UK unemployment set to top 2 million mark
Some economists expect unemployment to top the 2 million mark for the first time since the Labour Government came to power in 1997 in what will be a blow to Gordon Brown's efforts to convince the public he is tackling the recession.
CNN: Trump: 'AIG has politicians right where they want them'
Donald Trump, chairman and president of The Trump Organization and the executive producer of NBC's "Celebrity Apprentice," spoke with Larry King on Tuesday about the public's furor with AIG, the Bernie Madoff saga and the nation's economic woes.
In Case You Missed It
To watch the latest interviews and reporting: http://www.cnn.com/video.
CNN: Cuba's 'Spaniard Factory'
A new law has tens of thousands of Cubans applying for Spanish citizenship. CNN's Morgan Neill reports.
CNN: From farm to table
In Serenbe, a small community just south of Atlanta, Georgia, restaurant meals come straight from the local farm.
CNN: 3 ways to save your house
Real estate expert Ilyce Glink joins Naamua Delaney to discuss the mortgage crisis and the three ways to save your house.
CNN: Jobless man launches Web business
After getting laid off, Ken Hawkins created his own Web-based business and runs it out of a coffee shop.