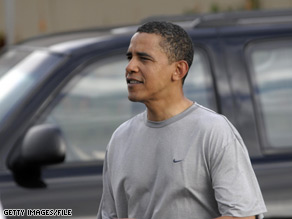 President Obama is known as an avid exerciser who religiously works out 45 minutes a day and regularly plays basketball.
LOS ANGELES, CA (CNN) - Hitting the gym while on the road as a White House producer isn't the most fun thing for me to do, but with the time change east coast-west coast I was awake before my alarm and thought I'd get a workout in.
Bleary-eyed trying to work up a sweat, I turned and saw a very big secret service agent standing in the corner. That's when I suddenly realized that President Obama himself had quietly come into the gym and has started his workout on the treadmill right in front of me.
Wearing his trademark workout outfit-a black cap, black track pants, and a gray t-shirt, he warmed up with a walk while reading the newspaper and listening to his iPod. He soon started running in earnest, ditching the paper, along with the black baseball cap he sported when he arrived.
Fearing the shame of quitting my routine early while in front of the President of the United States of America, I huffed and puffed through my cardio work out while he ran on the treadmill. I also struggled to do a couple of extra sets with weights just in case "anyone" was watching.
And I wasn't the only one watching. My fellow gym goers soon realized who was there and started whispering "Obama" and pointing in his direction. The gym soon became crowded with people who I'm not sure were there to work out (as several were in jeans). I took that as my cue to leave and get ready to begin my day as the travel pool producer.
Obama is in California to continue his campaign promoting stimulus spending. The president spent the morning at the gym before a joint appearance with muscle-bound California Gov. Arnold Schwarzenegger who had once mocked Obama's "skinny legs."
Shortly before the November election, the Republican governor - campaigning for GOP presidential nominee John McCain in Ohio, where he annual body building contest was taking place - said Obama could use the workout. "Now of course, the Arnold Classic is about building up the bodies and pumping up," said the former action star, "and that's why the next time it's classic, I want to invite Sen. Obama, because he needs to do something about those skinny legs. We're gonna make him do some squats and some bicep curls to help his scrawny little arms..."
Obama is known as an avid exerciser who religiously works out 45 minutes a day and regularly plays basketball. Senior Obama adviser David Axelrod said his boss was "pretty fit," jokingly challenging the California governor to hit the court.