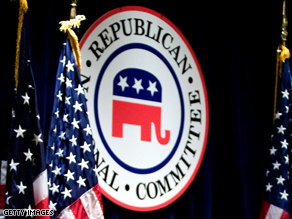 A top position at the RNC has now been filled.
WASHINGTON (CNN) - The Republican National Committee has tapped Gentry Collins, an Iowa native and a veteran of the McCain campaign, to run its political operation.
The well-respected Collins is a former executive director and deputy chairman of the Iowa state party, and a former political director of the Republican Governor's Association.
He managed Mitt Romney's ultimately unsuccessful Iowa caucus operation in 2007 and 2008, and later moved on to become John McCain's Midwest regional campaign manager, overseeing the battleground states of Missouri and Iowa.
"I am thrilled to announce the addition of Gentry to the RNC team," party chairman Michael Steele said in a statement. "He brings with him a proven record of success at building broad bases of grassroots and volunteer coalitions. Our primary task at the RNC is to grow our party and elect more Republicans and this appointment allows us to take another step towards those goals."