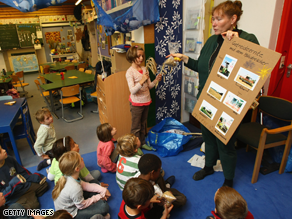 A new poll suggests Americans would take more federal money for education, even if it meant handing over control.
WASHINGTON (CNN) -  A new national poll indicates that most Americans would be willing to give up some control of their public schools to the federal government in return for more money from Washington for those schools.
Fifty-six percent of people questioned in a CNN/Opinion Research Corporation survey released Friday say they would like to see more federal money spent on the public schools in their communities, even if it meant increased influence by the federal government over the education policies those schools follow, with 43 percent opposed.
"There are big differences between Republicans and Democrats, but the most interesting gap is between mothers and fathers of children under 18," says CNN Polling Director Keating Holland. "Seventy-two percent of mothers favor more government influence over local schools in exchange for more money. Only about half of all fathers feel the same way. People with no children under 18 are split on the concept, with 53 percent  favoring that idea and 46 percent opposing."
The poll also suggests that Americans don't favor longer school days, but they do think the school year should be longer. Fifty-seven percent support increasing the number of days that students spend in school each year, but 55 percent oppose increasing the number of hours that students spend in school each day.
The public is split on whether teachers should get more money if their students do better on tests, known as merit pay. Fifty percent like that idea and 48 percent dislike it.
"Mothers and fathers disagree on merit pay as well," Holland notes. "Most fathers of children under 18 think it is a good idea. Most mothers do not."
President Barack Obama's vision for education reform include expanded merit pay for teachers, an idea long opposed by teachers unions.
The CNN/Opinion Research Corporation poll was conducted March 12-15, with 1,019 adult Americans questioned by telephone. The survey's sampling error is plus or minus three percentage points.