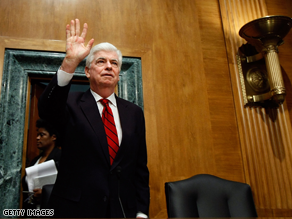 Dodd is the target of a new RNC video.
WASHINGTON (CNN) – The Republican National Committee will slam embattled Sen. Christopher Dodd Friday in a new video that highlights the Connecticut Democrat's admission he inserted language into the federal stimulus bill that honors bonuses to companies receiving federal financial assistance.
Dodd, chairman of the Banking, Housing & Urban Affairs Committee, denied to CNN on Tuesday that he had anything to do with adding the language, but in a follow-up interview on CNN the next day he acknowledged responsibility for it.
In the Wednesday interview, Dodd said that officials in President Obama's administration pushed for the language, because they were afraid that the government would face numerous lawsuits without it.
News that AIG executives were paid bonuses from the $173 billion provided by the federal government in bailout funds has caused national outrage and forced the House to pass legislation taxing individuals on any bonuses they receive from companies getting $5 billion or more in money from the Troubled Asset Relief Program. Bonuses for people with incomes over $250,000 would be taxed at a 90 percent rate. The bill is currently being debated in the Senate.
The video, which will be emailed to supporters and placed on the RNC Web site, relies heavily on CNN footage of the AIG story.