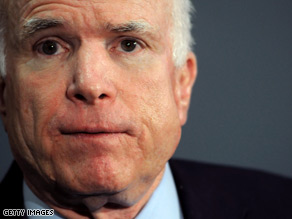 McCain is the latest prominent Republican to help McDonnell.
WASHINGTON (CNN) - National Republicans are already stepping up their efforts to help Bob McDonnell take back the Virginia governor's mansion from Democrats this November.
The latest prominent Republican to lend a hand is Arizona Senator John McCain, who will headline a fundraiser for McDonnell - Virginia's former Attorney General - at the home of Republican donor Carter Pate in McLean, Virginia on Wednesday night.
Louisiana governor Bobby Jindal, former New York City mayor Rudy Giuliani and former Tennesee Sen. Fred Thompson have all already raised money for McDonnell, who is running as a pragmatic moderate in a state that has grown increasingly purple over the last decade.
The McCain visit will be followed by twin fundraising appearances by former Arkansas governor Mike Huckabee in Bristol and Roanoke on March 30 and in Virginia Beach 31.
With three Democrats scrambling for their party's nomination and drawing considerable media attention, McDonnell has been free to raise money and begin building a campaign organization in advance of the general election.
Republicans may benefit from a historic pattern that demonstrates Virginia's contrarian political streak: The party controlling the White House has not won a governor's race in the commonwealth since 1973.