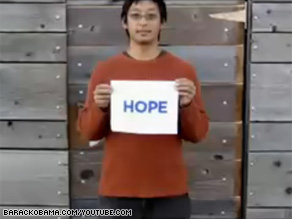 The Obama campaign used its vast e-mail list to identify supporters who were professional photographers and then asked them to shoot footage for one of the campaign's most prominent videos.
WASHINGTON (CNN) – It has been well documented about how then-Sen. Barack Obama used the Internet to organize supporters and help raise an historic amount of contributions for his White House run. But few people know that the Illinois Democrat also tapped his vast e-mail list to help gather video footage that was used by the campaign.
Former Obama political aide Chris Royalty said the campaign drilled down into the data collected from supporters to identify people who listed their occupation as "photographer." Once identified, the campaign asked them to shoot footage of fellow supporters holding up signs that read "hope" and "change," and send it to headquarters.
"We knew that if we just posted something on our Web site [asking for footage], there'd be so many thousands to go through that they're be no way to process it," Royalty said last week during a forum at the Center for American Progress.
And it was a success. Some of the footage was included in a video that aired the night Obama was nominated in Denver and again on election night at Chicago's Grant Park.
Related video: Signs of Hope and Change
The Obama campaign also sought to control the message of the day by sending its own video team on the road with him. The crew would record every Obama event with the goal of having at least one clip up on the campaign Web site within two hours.
Related video: Barack Makes Calls in Missouri
Justin Germany, who produced digital content for Sen. John McCain, agreed that speed was an essential in the 2008 campaign.
During one of the debates between the two candidates, the McCain campaign created a Web video criticizing Obama that was distributed before the debate ended.
"I was able to, pretty much in real time, make a fake TV ad," said Germany, who also participated in the forum. "We shipped it out to the networks and everyone else 10 minutes before the debate was over."
Related video: McCain is Right
With the campaign now a distant memory, the two former foes are now able to swap war stories about the battle for the White House.
"It's so great hearing your stories," Royalty said to Germany. "Because I remember being up late the night you guys put out the debate video. And, I thought 'Oh my god, why didn't we plan something like this? Why didn't we have all of our stuff in place?' So, it's really great to hear the other side of it."