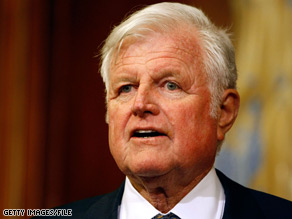 Sen. Edward Kennedy is back on Capitol Hill for two weeks.
WASHINGTON (CNN) – Sen. Edward Kennedy made his first appearance on Capitol Hill in weeks on Tuesday to continue his fight for universal health care.
"As the economic crisis worsens and the unemployment rate rises, the number of uninsured citizens will grow," Kennedy, who has been battling brain cancer, said in a statement entered into the record for a Health, Education, Labor and Pensions Committee hearing on Tuesday.
"In February 2009, more than eight percent of Americans were unemployed and 1.1 million of them will become uninsured with each one percent increase in unemployment. To guarantee that all Americans have access to quality medical services, we clearly must reform the current health insurance market," Kennedy said.
The Massachusetts Democrat, chairman of the Health, Education, Labor and Pensions Committee, will work in Washington for about two weeks until the Senate breaks for Easter. During that time, Kennedy will focus on health care reform and his national service bill, according to spokesman Anthony Coley.