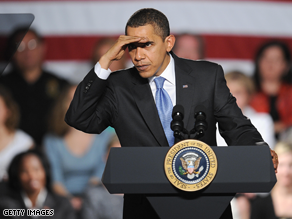 Obama apparently liked the famous Smith Barney ad campaign.
WASHINGTON (CNN) - Wall Street banks aren't the most popular institutions at the moment, but President Obama thinks one investment firm used a slogan that all Americans can live by.
In a session with regional reporters yesterday, the president knocked the financial sector, in particular AIG, for helping to create a bubble over the last decade based on artificial prices and growth. Now that the bubble has burst, he said, workers might want to heed the advice of Smith Barney's famous ad campaign from the 1980s.
"And so we've got to go back to that old Smith Barney ad that said, 'We make money the old-fashioned way - we earn it,'" Obama said, according to a transcript from the Louisville Courier-Journal. "Well, we've got to go back to economic growth of the old-fashioned sort by making things and providing new services that hadn't been provided before."
The brokerage firm's advertising campaign, which ran in the 1980s and helped elevate the firm's profile, featured British actor John Houseman, who signed off each spot with the mantra: "Smith Barney. They make money the old-fashioned way. They earn it."
Smith Barney has gone through a series of mergers over the years and is now known as Citi Smith Barney - a subsidiary of CitiGroup, the troubled bank now owned, in part, by the U.S. government.