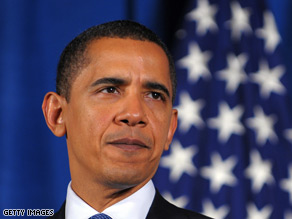 Obama spoke to regional newspaper reporters on Monday.
WASHINGTON (CNN) - President Obama thinks the Republican Party needs to figure out what it stands for, at the risk of appearing obstructionist.
"I do think that the Republican Party right now hasn't sort of figured out what it's for," Obama told a group of reporters from regional newspapers on Monday, according to the Louisville Courier-Journal. "And so, as a proxy, they've just decided 'we're going to be against whatever the other side is for.' That's not what's needed in an economic crisis."
The president said that unlike the early 1990s, "when basically we were pretty prosperous," the current economic muddle calls for a more productive tone in Washington. "Right now, everybody's got to pull together," he said.
Obama criticized Republican legislators for attempting to stand up for fiscal responsibility, even though the Bush administration spent eight years growing the federal budget.
"I understand their efforts to brand themselves in that fashion," the president said. "I just want to make sure that when it comes to solving this current economic crisis, that we don't get so caught up in short-term politics that we're missing the big picture."